PR Firm paid $500m from Pentagon for Iraq war propaganda has links with "Spin Doctor" Alastair Campbell
US government spent over $500m on

fake Al-Qaeda

propaganda videos that tracked location of viewers
The Pentagon

hired a UK-based PR firm to produce and disseminate videos during the Iraq War
A former contractor for a UK-based public relations firm says that the Pentagon paid more than half a billion dollars for the production and dissemination of fake Al-Qaeda videos that portrayed the insurgent group in a negative light.
The Bureau of Investigative Journalism reported that the PR firm, Bell Pottinger, worked alongside top US military officials at Camp Victory in Baghdad at the height of the Iraq War. The agency was tasked with crafting TV segments in the style of unbiased Arabic news reports, videos of Al-Qaeda bombings that appeared to be filmed by insurgents, and anti-insurgent commercials – and those who watched the videos could be tracked by US forces.
The report of Bell Pottinger's involvement in the video hearkens back to more than 10 years ago when the Washington-based PR firm Lincoln Group was revealed to have produced print news stories and placed them in Iraqi newspapers. According to the Los Angeles Times, who obtained the 2005 documents, the stories were intended to tout the US-led efforts in Iraq and denounce insurgent groups.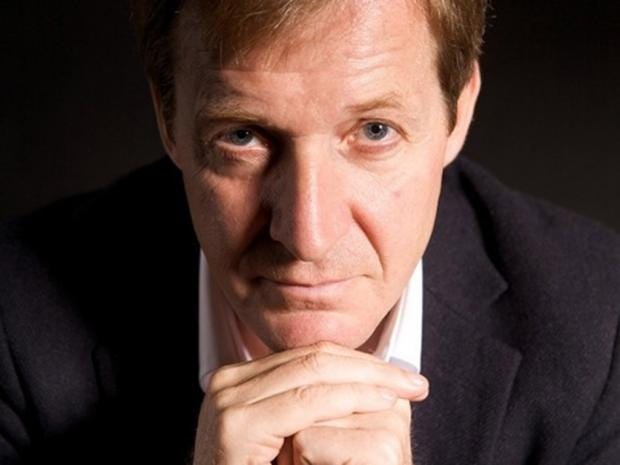 Bell Pottinger was first tasked by the interim Iraqi government in 2004 to promote democratic elections. They received $540m between May 2007 and December 2011 but could have earned as much as $120m from the US in 2006.
Lord Tim Bell, a former Bell Pottinger chairman, confirmed the existence of the contract with the Sunday Times. The Pentagon also confirmed that the agency was contracted under the Information Operations Task Force, but insisted that all material distributed was "truthful".
However, former video editor Martin Wells, who worked on the IOTF contract with Bell Pottinger, said they were given very specific instructions on how to produce the fake Al-Qaeda propaganda films.
But BDTN has been doing a bit of research and has come across and old Independent article from May 2012 that links Mr Spin Doctor himself (he gets off on being called a spin doctor) Alastair Campbell.
He has produced four volumes of diaries, become a prolific blogger, starred in a one-man show, appeared on the after-dinner speaking circuit, raised funds for charity and followed his beloved Burnley FC around the country.
The legendary spinner – admired and vilified in equal measure at Westminster – has been headhunted as a consultant by the communications agency Portland, which was founded by his former Downing Street deputy, Tim Allan. In his new role, Mr Campbell will advise a roster of clients that includes Tesco, McDonald's, Vodafone and Google. Portland has also provided PR advice to the government of Russia and Kazakhstan's dictatorship.
Mr Campbell had originally intended to leave Downing Street in 2002 but was persuaded to stay on for another 12 months as the Iraq crisis turned into a war.At the time of his resignation he suggested he was burnt out by the gruelling experience of being at Mr Blair's side for nine years – three in opposition and six in office.
After his departure, he channelled much of his prodigious energies into his diaries, The Blair Years. Mr Campbell has used his blog – and later Twitter – to opine regularly on politics and re-emerged to help with Labour's election campaigns in 2005 and 2010. A burgeoning broadcasting career has included a documentary on his battle with depression and appearances on Question Time, Top Gear and Jamie's Dream School
As well as Mr Allan, he will be reunited at Portland with several familiar faces from Downing Street, including David Bradshaw, with whom he also worked on the Daily Mirror, Steve Morris and Martin Sheehan.
He will also become a colleague of a previous political foe, Michael Portillo, the former Tory cabinet minister. Mr Campbell said: "I'm not sure when I was in No 10 that I ever thought I would be working alongside Michael Portillo but then I think even Michael will admit he's changed his outlook more than I have."
In 2012 Campbell Provided "high-level strategic counsel" for Bell Pottinger the company mentioned above for Iraq war propaganda paid by the Pentagon.
Please comment below.



Subscribe to the BDTN Newsletter