And it's all down to one man the self-admitted Corbyn hater Micheal Foster.
Millionaire Labour DONOR pledges to stand against Corbyn in general election.
A prominent Labour donor has pledged to stand against Jeremy Corbyn in the general election if he does not stand down.
Michael Foster said Labour was facing annihilation on 8 June because the "blinkered" leader lacked the attributes required to win.
He also levelled a startling accusation that supporting Corbyn's leadership "means supporting a political strategy that kills people", linking Tory dominance to longer waiting times for heart operations.
Writing in the Sunday Times, (Murdoch-Owned) Foster said: "There are a lot of things a political party looks for in a leader. Jeremy Corbyn possesses none of them. Because of him, Labour faces annihilation at the polls.". The polls are in fact in Corbyn's favour with Labour being 3 points behind the Tories BUT the polls mean nothing so I'm staying open minded about the good poll numbers for now.
The entertainment agent, who was suspended by the party after launching a legal bid to oust Corbyn in 2016, said last month that the results of the looming local elections should decide his fate. Issuing an ultimatum, he said: "If the results are as bad as predicted, then Jeremy should stand down voluntarily and let someone else lead the fight in June.
"If he does not – and I don't believe he ever would – I would be very happy to fight him and his fellow travellers on the extreme left of the party by standing in his constituency of Islington North."
Michael Foster is a Jewish MP who is part of the Labour Friends of Isreal who played a massive part in the antisemitic lies and smears against Corbyn and his voters last year.
Michael Foster is a dangerous man he seems to think because he has donated millions to the Labour Party that he owns it well he doesn't but this is going to stop him trying to make Labour lose the general election on June 8th.
Mr Foster has tricks up his sleeve because he has been handing out posters (pictured at the top of the page) asking people to vote for him in Corbyn's own constituency Islington but that is nothing compared to what he has planned.
I have spoken to sources the Labour Party who want to stay anonymous who have said Mr Foster is about to start the Anti-Semitic Smear and lies up in the last week of election to make Corbyn lose voters.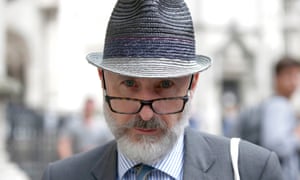 The creep that iss Michael Foster
This isn't a last minute thing this has been planned since the General election was called.
And as I'm writing this out now it literally has kicked off with an alleged Labour member being suspended for calling a BBC Journalist a Zionist.
This next segment was on a website called Politics Home:
A Labour party member has been suspended after a BBC journalist was accused of being a "Zionist" after she conducted a car crash radio interview with Jeremy Corbyn, PoliticsHome can reveal.
The jibe was made in a message posted from the @Labour_Insider Twitter account.
Among those who attacked the remark was Hollywood actor and Labour supporter Eddie Marsan.
The account is run by the blog of the same name, which was set up by Labour member Phillip Jones.
He has insisted that he did not personally post the offending tweet, which was the subject of a number of complaints to the Labour party.
One senior source said: "It was judged to be conduct prejudicial or grossly detrimental to the party.
"Phillip Jones has been suspended from the Labour party, pending an investigation."
Mr Corbyn later described the abuse as "unacceptable" and called on his supporters to stop it.
He said: "Under no circumstances whatsoever should anyone throw personal abuse at anyone else because they're doing the job that they're employed to do. And I will not tolerate it under any circumstances."
Labour has been dogged by anti-Semitism rows over the past two years, with several party members - including former London Mayor Ken Livingstone - being disciplined over the issue.
A Labour spokesperson said: "The Labour party takes all allegations of abuse and anti-Semitic behaviour seriously. As Jeremy Corbyn made clear at the launch of Labour's Race and Faith Manifesto, we will not tolerate it under any circumstances."
we can now show you evidence that Politics Home is OWNED by the Conservatives.
ConservativeHome is a centre-right political blog in the United Kingdom. It was first established ... of the Conservative Party took a controlling stake of 57.5% in
PoliticsHome
, the company which owns and operates ConservativeHome.
So this story of a member bein suspended was probably set up by the Conservatives and Blairites.
Has anyone noticed how quiet the Blairites have been even the Deputy Leader Tom Watson? I knew something has been brewing and they are saving it for the last week of the general election to try and ruin it for Corbyn DON'T FALL FOR IT and DON'T LET THEM WIN. THINK ABOUT THE POLICIES NOT THE SMEARS!
The Tories and Blairites (Same thing) don't want Corbyn to win they don't want the people to have a voice they don't want you to have an NHS they certainly don't want you to be happy and live in a fairer society. STOP THEM NOW BY VOTING CORBYN IGNORE THE LIES AND SMEARS.
Micheal Foster hates Corbyn because he stands up for the rights of people including Palestinians.
Sources related to this
PLEASE COMMENT BELOW. The Site is open to the public. Therefore, consider your comments carefully and do not include anything in a comment that you would like to keep private. By uploading or otherwise making available any information to the Author in the form of user generated comments or otherwise, you grant the Author the unlimited, perpetual right to distribute, display, publish, reproduce, reuse and copy the information contained therein. You are responsible for the content you post. You may not impersonate any other person through the Site. You may not post content that is obscene, defamatory, threatening, fraudulent, invasive of another person's privacy rights or is otherwise unlawful. You may not post content that infringes the intellectual property rights of any other person or entity. You may not post any content that contains any computer viruses or any other code designed to disrupt, damage, or limit the functioning of any computer software or hardware.
This website is provided free of charge but relies on the generosity of its readers to help us continue our work. If you can afford it could you please donate HERE thank you.