The desperate mainstream fake news media are spewing out more BS today by saying Stephen Hawking is calling Corbyn a disaster .. HE NEVER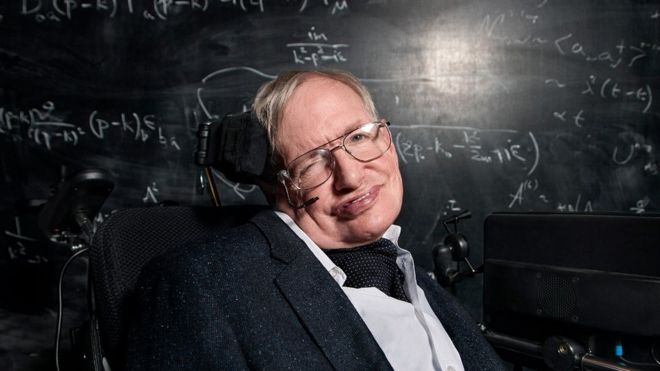 Jeremy Corbyn wasn't even mentioned but let's say he was for a minute and let's say Stephen Hawking did say this stuff it's not going to help the elites case against Corbyn at all if all, it will push people towards Corbyn even more as the whole reason Corbyn is so popular in the first place is because he is anti-elite so they are fighting a losing battle.
Stephen Hawking never said these things though so this whole story is pointless more pointless than the mainstream media.
What does Corbyn have over the media? Why are they so afraid of him? Why are they so desperate at smearing him? The desperation is seeping through the media machine and they are not ashamed of showing how desperate they are it's really embarrassing.
Stephen Hawking supports the BDS movement, Boycott, Divestment, Sanctions (BDS) is a Palestinian-led movement for freedom, justice and equality. BDS upholds the simple principle that Palestinians are entitled to the same rights as the rest of humanity.
Israel is occupying and colonising Palestinian land, discriminating against Palestinian citizens of Israel and denying Palestinian refugees the right to return to their homes. Inspired by the South African anti-apartheid movement, the BDS call urges action to pressure Israel to comply with international law.
BDS is now a vibrant global movement made up of unions, academic associations, churches and grassroots movements across the world. Eleven years since its launch, BDS is having a major impact and is effectively challenging international support for Israeli apartheid and settler colonialism.
UPDATE
What Hawking Really said:
It started in an Interview in the Times on Humanities. The focus was not on Jeremy Corbyn, he was just mentioned. Hawkings said basically that Corbyn was a good man and indeed that he would vote for him but that Corbyn has allowed himself to be portrayed as a left-wing extremist. This is what Hawking said is a disaster for him for not standing up for himself. The MSM have picked up on it and twisted it. Just more Murdoch smearing.
PLEASE COMMENT BELOW. The Site is open to the public. Therefore, consider your comments carefully and do not include anything in a comment that you would like to keep private. By uploading or otherwise making available any information to the Author in the form of user generated comments or otherwise, you grant the Author the unlimited, perpetual right to distribute, display, publish, reproduce, reuse and copy the information contained therein. You are responsible for the content you post. You may not impersonate any other person through the Site. You may not post content that is obscene, defamatory, threatening, fraudulent, invasive of another person's privacy rights or is otherwise unlawful. You may not post content that infringes the intellectual property rights of any other person or entity. You may not post any content that contains any computer viruses or any other code designed to disrupt, damage, or limit the functioning of any computer software or hardware.
This website is provided free of charge but relies on the generosity of its readers to help us continue our work. If you can afford it could you please donate HERE thank you.