Campaigners have called for a review of the 100-year secrecy rule imposed on some documents seen by the inquiry into the Dunblane killings which were never made public to look again at the 100-year ban placed on a police report on Thomas Hamilton, who murdered 16 primary schoolchildren and their teacher.
There have been allegations that the lengthy closure order was placed on the report after it linked Hamilton to figures in the Scottish establishment, including two senior politicians and a lawyer.
But the crown office says the decision to impose the ban - by Lord Cullen, who chaired the inquiry - was made to protect the identity of children who may have been abused by Hamilton and their families.
Following Wednesday's Scottish cabinet meeting, it was announced that the lord advocate, Colin Boyd QC, would look at the feasibility of publishing the report with the children's names deleted.
But Michael Matheson, the Scottish National party's shadow deputy justice minister, questioned whether the lord advocate's review would go far enough.
He said: "There are more documents covered by the 100-year rule than this police report. Some of them have nothing whatsoever to do with children. We need to look at why such a lengthy ban has been imposed on them.
"I have been contacted by a number of families affected by the tragedy who are anxious to ensure this information becomes public. And so far we have no guarantee that it will. We only have a review."
The report banned under the 100-year rule was compiled by Paul Hughes, then a detective sergeant with Central Scotland police, and concerns Thomas Hamilton's activities at a summer camp in Loch Lomond in 1991, five years before the shootings.
Selected extracts published during the Cullen inquiry revealed it recommended that Hamilton should be prosecuted for his activities at the summer camp and that he should have his gun licence revoked.
The report, however, was ignored. Although Lord Cullen referred to it in his inquiry, it does not feature in the index or appendices to his final report.
Consent from Lord Cullen is not needed to overturn his ruling. "The decision is a matter for the lord advocate," said a crown office spokesman.
If the report is published - as now seems likely - the names of the politicians and lawyers it contains will not be blanked out.
"It is important we make available if it is at all possible, any information that is available about people in the public eye," said the Scottish first minister, Jack McConnell.
There has been much speculation about the identity of the politicians in the report. It is known that in June 1996 Michael Forsyth, then Scottish secretary and MP for Stirling, congratulated Hamilton on running a boys' club in Dunblane.
George Robertson, now general secretary of Nato, withdrew his son from a club run by Hamilton amid concern about its militaristic nature.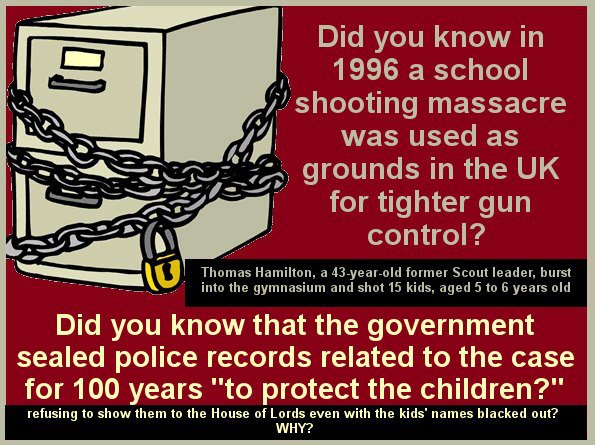 PLEASE COMMENT BELOW. The Site is open to the public. Therefore, consider your comments carefully and do not include anything in a comment that you would like to keep private. By uploading or otherwise making available any information to the Author in the form of user generated comments or otherwise, you grant the Author the unlimited, perpetual right to distribute, display, publish, reproduce, reuse and copy the information contained therein. You are responsible for the content you post. You may not impersonate any other person through the Site. You may not post content that is obscene, defamatory, threatening, fraudulent, invasive of another person's privacy rights or is otherwise unlawful. You may not post content that infringes the intellectual property rights of any other person or entity. You may not post any content that contains any computer viruses or any other code designed to disrupt, damage, or limit the functioning of any computer software or hardware.
This website is provided free of charge but relies on the generosity of its readers to help us continue our work. If you can afford it could you please donate HERE thank you.