1. When the SNP supported the Tories in bringing down Jim Callaghan's government by a vote of no confidence, resulting in the election that brought Margaret Thatcher to power.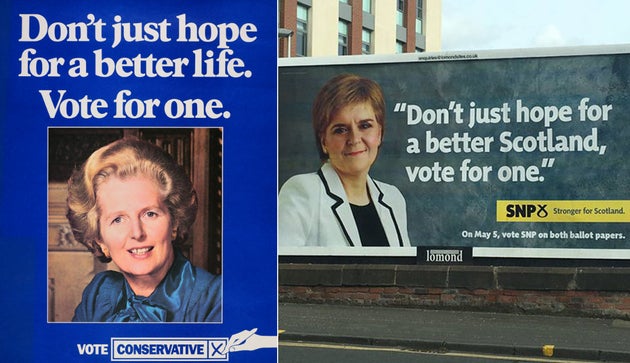 2. When the SNP and Tories described using Scotland's new powers as a 'tax grab,' when the Scottish budget was being set.
3. When the SNP in government blocked Labour's attempts to hold an inquiry into the 1984 miners' strike, allowing Tory attacks on working class communities to stay covered up.
Snp ministers refuse to back inquiry into convictions of miners.
Charged debate at holyrood
See the scotsman Website for full story

— Andrew Whitaker (@AndrewWhitaker3) March 14, 2013
4. When the SNP and Tories voted together against Labour's plan to regulate Scottish buses.
...(and on the living wage)...
Wonder why SNP voted with Tories to reject Living Wage for care workers? Why did they not use bill to end 7 minute care visits?

— Joe Cullinane (@jcullinane86) February 25, 2014
...(and on capping rent rises.)
Mhairi Black & now SNP students support rent controls. Shame their party voted with Tories to block Labour amendments to Housing Act 2014.

— Kayleigh Quinn (@KayleighMQuinn) August 15, 2015
5. When Nicola Sturgeon and Ruth Davidson used the same excuses to argue against Labour's tax plans in a leaders' debate.
6. When John Swinney's budget was branded 'a Tory copycat'
7. When their tax plan was described as "realistic and responsible," by the leader of the Scottish Tories.
8. When the SNP secured the Tories' support to get their budget through in the last parliament.
9. When they were praised by the Tories for their "good, solid, Conservative values" after their budget for cuts came before parliament.
10. And, of course:
PLEASE COMMENT BELOW. The Site is open to the public. Therefore, consider your comments carefully and do not include anything in a comment that you would like to keep private. By uploading or otherwise making available any information to the Author in the form of user generated comments or otherwise, you grant the Author the unlimited, perpetual right to distribute, display, publish, reproduce, reuse and copy the information contained therein. You are responsible for the content you post. You may not impersonate any other person through the Site. You may not post content that is obscene, defamatory, threatening, fraudulent, invasive of another person's privacy rights or is otherwise unlawful. You may not post content that infringes the intellectual property rights of any other person or entity. You may not post any content that contains any computer viruses or any other code designed to disrupt, damage, or limit the functioning of any computer software or hardware.
This website is provided free of charge but relies on the generosity of its readers to help us continue our work. If you can afford it could you please donate HERE thank you.