Why has it been so easy for Israeli lobbies, Embassies and Mossad to infiltrate UK governments and parties especially Labour and Tories?
Where are Mi5/6 it's almost as if they are a part of it isn't it?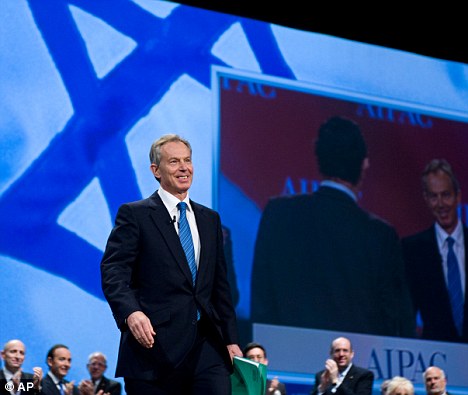 It's now a known fact that Tony Blair is a murderer and war criminal after invading Iraq through lying to the world that Saddam Hussein had Nuclear weapons, He never.
Blair is also a massive fan of Occupied Palestine (Israhell) and admits to being a Zionist himself so with all this stuff that has come out on Al-Jazeera news about the Israel lobby and workers plus the Israeli ambassador in Britain caught on undercover cameras boasting about faking anti-semitic bullying and "Bringing down British MP's" they don't like (which in itself is a massive blow and embarrassment to our national security, unless they were involved of course) it made me think about Labour under Tony Blair or shall we say "New Labour" and the dramatic things that happened within them 13 years that have links with Mossad or Israel, So I decided to list the ones I can remember and the evidence on how they have links to Israel or Mossad.
It's highly likely Blair and Mossad had a hand in the deaths of Dr David Kelly, Robin Cook, Jean Charles de Menezes, former Labour leader, John Smith, Jill Dando and Princess Diana (amongst others).
7/7
Did Blair have a hand to play in the attacks?
Global Research reported:
"According to a report from the Associated Press correspondent in Jerusalem, the Israeli embassy in London had been advised in advance by Scotland Yard of an impending bomb attack:
Just before the blasts, Scotland Yard called the security officer at the Israeli Embassy to say they had received warnings of possible attacks, the official said. He did not say whether British police made any link to the economic conference. (AP, 7 July 2005)
Israeli Finance Minister Benjamin Netanyahu was warned by his embassy not to attend an attend an economic conference organised by the Tel Aviv Stock Exchange (TASE) in collaboration with the Israeli embassy and Deutsche Bank.
Netanyahu was staying at the Aldridge Hotel in Mayfair. The conference venue was a few miles away at the Great Eastern Hotel close to the Liverpool subway station, where one of the bomb blasts occurred."
In an article by investigative journalist Christopher Bollyn, the following claims were made:
" At the time of the London bombings, Peter Power was Managing Director of Visor Consultants Ltd., a London-based "crisis management" firm. Power is the former police chief from West Dorset (Southern England). Power was suspended from the force in April 1993 and forced to retire in September 1993 after an investigation which remains confidential.
As the British press reported in 1993:
" The Crown Prosecution Service has been sent details of an investigation into a senior police officer with the Dorset force. Dorset police confirmed yesterday that Superintendent Peter Power, the officer in charge of the west of the county, has been suspended on full pay since April but refused to outline the allegations against him. Power, who was involved in the Iranian embassy siege and King's Cross fire, transferred to Dorset in 1990 after serving 19 years in the Metropolitan police."
Who is Peter Power?
People who rely on the mainstream media will have no idea who Peter Power is. He has only been mentioned in the press 4 times since the London bombings of 2005, a terrorist attack that he evidently played a role in. It should be noted that Peter Power and the London bombing drill have never been mentioned in the U.S. print media.
On the day of the bombings of the London Underground and a bus at Tavistock, Power and his company, Visor Consultants Ltd., were conducting a drill for a mysteriously unnamed client. The Visor exercise was precisely identical to the bombings that occurred. Ask yourself, just how likely is such a coincidence?
Shortly after the London bombings, in an interview with Peter Allen on BBC Radio 5 Live's "Drivetime", Power explained the incredible coincidence of the terror attacks with his company's drill:
Power: At half past nine this morning we were actually running an exercise for a company of over a thousand people in London based on simultaneous bombs going off precisely at the railway stations where it happened this morning, so I still have the hairs on the back of my neck standing up right now.
Peter Allen: To get this quite straight, you were running an exercise to see how you would cope with this and it happened while you were running the exercise?
Power: Precisely, and it was about half past nine this morning, we planned this for a company and for obvious reasons I don't want to reveal their name but they're listening and they'll know it. And we had a room full of crisis managers for the first time they'd met and so within five minutes we made a pretty rapid decision, "this is the real one" and so we went through the correct drills of activating crisis management procedures to jump from slow time to quick time thinking and so on.
One would think that Power's incredible revelations about the bombing and the uncanny coincidence with the Visor drill would be a subject of great interest to the media and the investigative agencies of Britain and the United States. Unfortunately, that has not been the case."
Some voices claim Mossad were complicit in the bombings.
Gareth Williams/Child Abuse
Gareth Williams may have been murdered because he had knowledge of Mossad's links to child-abuse rings and the 7/7 bombings.
A mysterious 'Mediterranean' couple were linked to his brutal murder but were never traced.
There's a strong possibility they were Mossad agents.
By a strange coincidence, child-raping filth, Jimmy Savile, had links to Israel and high-ranking members of the Israeli Government and military.
According to Brian Palmer:
" The police took away masses of paperwork after the death of Jimmy Savile, which was said to have been immediately incinerated, it has been said that a lot of correspondence was in the pile from the ex-Israeli prime minister Menachem Begin whom rumour has it was Savile's main protector"
Jill Dando knew all about Savile and the BBC paedophile-ring and was shot in the head to silence her and serve as a warning to others to keep their mouths shut.
Barry George was innocent of her murder but was jailed for 8 years and denied compensation in a sickening travesty of justice.
The real suspect was actually 'Mediterranean' looking and may well have been a Mossad agent.
Savile often boasted that he could call on powerful paramilitary friends if he was threatened with exposure.
Cliff Richard was interviewed several times about the murder.
By a strange coincidence, Cliff was named as a visitor to sordid child-brothel, the Elm Guest House.
He also owned a company, Blacknight Ltd, which was registered at Tavistock Square, where the 7/7 bombings took place.
http://www.companieslist.co.uk/03546259-blacknight-limited
Has Cliff Richard been using the cover of 'Christian singer' to hoodwink us?
Cliff once went on a fact-finding mission with Jimmy Savile and Lord Longford:
" One of Myra Hindley's most famous supporters was Lord Longford, who spent years lobbying for her release. Lord Longford went on a fact-finding mission in the '70′s to investigate pornography. He took along Jimmy Savile and Cliff Richard."
Longford was the uncle of Harriet Harman MP, who has recently been embroiled in the recent PIE paedophile scandal.
Harman is, in turn, a cousin of Prime Minister David Cameron, who is, in turn, a cousin of the Queen."
The Met police are also linked to Mossad:
" Who are the mysterious armed Met police unit, SCO19?
According to Wikipedia:
" Specialist Crime and Operations Specialist Firearms Command (SCO19) (previously known as SO19 and then CO19) is a Central Operations branch within Greater London's Metropolitan Police Service.The Command is responsible for providing a firearms response capability, assisting the rest of the service, which is normally unarmed"
The SCO19 were the unit responsible for the shooting of Jean Charles de Menezes at Stockwell tube station.
The SC019 were allegedly trained by the Israeli police force:
" The cold-blooded murder of Jean Charles de Menezes, in the Stockwell underground was no accident. London Metropolitan Police had approved a policy of "shoot to kill":
"a controversial tactic deployed only in the most extreme circumstances but one police have been preparing to use for the last two weeks.".
The shoot to kill policy was undertaken under the auspices of "Operation Kratos", named after the mythical Spartan hero. It was carried out by the London Metropolitan's elite SO19 firearms unit often referred to as the Blue Berets. The latter are described as the equivalent to the US SWAT teams, yet in this particular case, they were not wearing uniforms.
The training of the S019 marksmen was patterned on that of Israel. They had been briefed "by officers who had been to Israel to meet their counterparts there and pick up tips gleaned from the experience of dealing with Hamas bombers".
"During the Kratos briefings, the Met team were told that contrary to their normal arms training, they should fire at the head rather than the chest. Although the chest is easier to hit, it is not as reliable in causing instant death, giving a bomber a chance to detonate his device…. "(The Scottish Daily Record, 23 July 2005).
The "Israeli counterparts" refers to Israel's National Police (INP), Shin Bet (the Israel Security Agency) and Israel's Ministry of Internal Security. But the police antiterrorist operations conducted by the INP against Hamas and Islamic Jihad are carried out in close coordination with the Military (Israeli Defense Force) and Mossad. Israel has also collaborated in the training of members of the FBI and the LAPD. Top law enforcement officers from the FBI were trained in Israel under a program sponsored by The Jewish Institute for National Security."
In the comments section of a website discussing a high-level paedophile ring the following statement was made:
" Members of SO19 know about the kids home behind Waterloo Station where they used to drop off and collect a senior royal. A good few years ago, though!"
In an article in the Mirror, the following claims were made:
An undercover cop probing VIP child abuse allegations at a gay sex parlour ended up raping a teenage boy, according to ­sensational new claims.
The victim, who was 16 at the time, has told how he was forced into sex work as a masseur at the Elm Guest House near Barnes in South West London in 1982.
Among the rich and powerful who he says abused him was disgraced former Liberal MP Cyril Smith.
Others said to frequent the guest house included a government ­minister, a high-ranking policeman, a member of the royal household, an MI5 ­officer and traitor spy Anthony Blunt.
Authorities were so concerned at rumours of a VIP paedophile ring that Met officers were sent in, undercover, to gather intelligence in 1982.
After a surveillance ­operation, ­police raided the property.
The couple who ran the Elm, Carole and Harry Kashir, were arrested along with the teenage masseur and charged with keeping a ­disorderly house.
But the charges against the boy, who was under the age of consent for homosexuals at the time, were later mysteriously dropped."
The TruthNews website reported:
" Sir Malcolm Rifkind is chairman of the British parliamentary Intelligence and Security Committee (ISC), which oversees MI5, MI6 and GCHQ – the most important position in the UK intelligence community. The ISC reports first to the prime minister, who retains – and uses – the right to censor material in ISC reports before parliament views them".
In a macabre twist, Rifkind is the cousin of Leon Brittan, who has himself been linked to some shady goings-on of the highest order.
They also link to Labour peer, Greville Janner, who was investigated for buggering a care-home boy.
These three unsavoury characters all have links to Israel and it's Intelligence Services.
They also have links to Margaret Oppenheimer Hodge, MP, who covered up the horrific Islington abuse ring, yet was made Children's Minister by Israeli-loving Tony Blair.
Hodge's nephew, Phillip, was with the McCann's in Praia de Luz when Madeleine disappeared.
It's a little-known fact that many British Establishment figures hold dual UK/Israeli citizenship.
One such figure is Shirley Porter who knows all about Westminster Council's links to the Dolphin Square boy-brothel scandal and ran away to Tel Aviv when the heat was on.
Shirley Porter has extremely close ties to Israel and it's Intelligence Services.
Child abuse/Royals
According to the Mail, a bombshell court document proves that Prince Andrew knew about the paedophile activities of his close pal, Jeffrey Epstein, despite previously denying any knowledge of his crimes:
" Three months ago, a solicitor called Jack Scarola walked into the vast art-deco county courthouse in West Palm Beach, Florida, and handed a 23-page legal document to its clerk.
Rubber-stamped Exhibit D, and intended to be used as evidence in a forthcoming trial, the neatly typed bundle of papers — which the Daily Mail obtained a copy of this week — offers an extraordinary insight into the life, and crimes, of one of America's most notorious sex offenders."
In the past, whenever the Epstein case has been reported, it has been claimed there is no suggestion that Andrew was ever aware that the tycoon paid under-age girls for sex.
But in Exhibit D, Roberts alleges otherwise.
Asked whether the Prince would have 'relevant information' about 'Jeffrey's taking advantage of under-age girls', she replies:
'Yes, he would know a lot of the truth.'
Exhibit D will also raise questions about the alleged role in Epstein's sordid crimes of Ghislaine Maxwell, the socialite daughter of the late disgraced media mogul Robert Maxwell."
According to Incentivising:
" On 13th March 2011, the Mail on Sunday reports on Jeffrey Epstein's private Caribbean island, Little St James, and on his 'little black book' listing phone contacts.
Among those whose names have been linked to Epstein are:
Ehud Barak
Bill Clinton
Sir Evelyn de Rothschild and his daughter Hannah
Lord Mandelson and boyfriend Reinaldo.
Ghislaine Maxwell "
We now know that Ghislaine, the daughter of media mogul Robert Maxwell, has been procuring children for decades, to be abused by VIP filth.
Some voices allege that both she and her father were employed by Israeli spy agency, Mossad.
Did they supply children for Britain's filthy Establishment?"
Aangirfan has reported on their links:
"Jeffrey Epstein was once presented with three 12-year-olds from France as a birthday gift"
" Ghislaine Maxwell, daughter of Robert Maxwell, is a close friend of Jeffrey Epstein who was jailed for involvement with 'child prostitutes'"
" Former Mossad officer Ari Ben-Menashe reported that in 1986 Robert Maxwell tipped off the Israeli Embassy in London that Mordechai Vanunu had given information about Israel's nuclear capability to the Sunday Times."
" Does Mossad run paedophile rings?"
" Virginia Roberts worked for Jeffrey Epstein.
She has stated that when she was aged 15 "She was 'given' to men ranging in age from their 40s to their 60s.
"They included a well-known businessman, a world-renowned scientist, a respected liberal politician and foreign head of state."
Zionist and Israeli donors
In 1996. the Time reported in Blair's Jewish donors:
" Tony Blair is receiving hundreds of thousands of pounds in undisclosed donations through a private account despite the Labour party's commitment to openness about its funding. A Sunday Times investigation has discovered some of Britain's richest tycoons have given donations under an arrangement made by Blair's office to disguise their identities.
They include Sir Trevor Chinn, chairman of Britain's biggest motor dealers who was knighted by the Tories, and Sir Emmanuel Kaye, a multi-millionaire… The fund… is being used to help pay Blair's staff and other private expenses. No trace of the donations appears in the labour party's accounts… The Labour Leader's Office Fund is particularly mysterious. It was established about a year ago and was managed by Blick Rothenburg, a City accountancy firm.
Michael Goldstein, a partner in Blick Rothenburg, who looked after the fund, said, 'I really don't now anything about it. Where did you get our name from'?…
David Rothenburg, the firm's senior tax partner, was in Israel this weekend and unavailable for comment.
Many of the donors are pillars of the British establishment and have long and distinguished entries in Who's Who… Alex Bernstein, former chairman of Granada… is understood to have donated… Bob Gavron, a publishing millionaire who has publicly donated directly to the Labour party, has also given £35,000 to Blair's private office.
Chinn, 61, is chairman of Lex Service and President of the Joint Israel Appeal, Britain's biggest fundraising charity for Israel.
The Labour Leader's Office Fund was set up last year by Jonathan Powell, Blair's chief of staff and brother of Sir Charles Powell, an aide to Margaret Thatcher… Blair is understood to have wanted to develop a source of finance that would give him independence from the Labour party… to help pay for his private office…
Labour has made great play of its new policy of declaring all donations of more than £5,000 to the party, and has challenged the Tories to come clean on their sources of funding."
Jill Dando
According to an article in the Daily Record entitled:
" BLAIR'S MAN QUIZZED OVER DANDO MURDER"
" The Prime Minister's official spokesman was quizzed by police over the murder of TV presenter Jill Dando, it was revealed yesterday.
Alastair Campbell, one of Tony Blair's closest aides and friends, met officers so they could eliminate him from their inquiries.
He was interviewed when a newspaper wrongly claimed he had joked about being Jill's lover.
Campbell said he had met her when he reviewed the papers on her breakfast TV show.
He also said: "I believe the police had a number of calls pointing out my resemblance to their e-fit picture of the killer."
Tony Blair was responsible for ennobling child-raping Labour peer, Greville Janner.
Janner buggered a boy in care for years but walked away scot-free.
Tony Blair made Margaret Hodge-Oppenheimer the first Children's Minister, despite her being responsible for the Islington care home abuse scandal.
The paedophile-ring led to the death of Jason Swift and saw thousands of boys abused in care.
Did Islington residents, Tony Blair and Charles Falconer, have any knowledge of the abuse scandal?
Strangely, the nephew of Hodge was a visitor to the Warner holiday complex in Praia da Luz at the time of Madeleine McCann's disappearance.
One of Tony Blair's ministers was among a group of men suspected of sexually abusing children at a home run by a convicted paedophile.
But the probe was halted soon after an ex-social services boss told police of his alleged evening visits in the early 1980s.
Official documents seen by the Daily Mirror during a 16-month investigation reveal former residents told detectives that a group of paedophiles attacked children in a private flat in the home.
But two former Lambeth social services employees involved in the case suspect a cover-up because experienced detective Clive Driscoll was removed from the investigation and given other duties.
One, a former manager who alerted police in 1998, said: "One wonders why Scotland Yard would be so desperate to stop it being investigated.
"I believe it was stopped because somebody in power was trying to prevent any further investigation into the politician."
Some voices claim Mossad set deliberate honey-traps to ensnare VIP's.
Abuse and snuff films are made to then blackmail politicians throughout their careers.
Peter Mandelson
Mandelson works directly for the corrupt Rothschild family and also heads the front NSPCC organisation ( along with BBC filth, Esther Rantzen).
" It's a little-known fact that extremely weird person Peter Mandelson loves a bit of voodoo.
You may remember the time he cut off a chicken's head in a bizarre black magic ritual:
" A Brazilian witch doctor has said that Peter Mandelson once held a chicken while he cut off its head as a sacrifice to a pagan god in the Candomble cult.
Later the voodoo practitioner was, it appears, asked by Mr Mandelson's friend Reinaldo Avila da Silva to do something to make Charlie Whelan "who is always trying to harm Peter" disappear from politics.
The magic man was sent a photograph of Mr Whelan, and – hey presto! – his bad vibes evaporated and Mr Mandelson was restored to the Cabinet."
As with that other odd-bod Greville Janner, Peter loves nothing better than to turn to the dark arts of magic when the going gets tough.
We've heard on the grapevine though that Peter's medical records held in a French hospital are less than magical.
Apparently, a bizarre anal trick involving a furry animal went horribly wrong and Peter was unable to sit down for week".
Cliff Richard
" Cliff Richard was blackmailed into visiting Israel in 2008, most British entertainers refuse to go, and as a ' Christian ' he should particularly have refused. He was told if he did not go and perform there, some very unsavoury material could find its way into the news, one wonders what this was, but Cliff went and performed.The sting in the tail was when he was about to collect his cheque and leave, that he would have to make a large donation to building "Israeli tennis courts ".
One wonders where the money really went and why the reason was concealed?
Cliff was so upset he phoned his friend Tony Blair and poured his heart out.
The call was taped and put on the radio show Chris Cooper investigates, and also on Youtube, where it was taken down within minutes."
– " Israeli Mossad and Shin Bet agents run freely in the UK and kill people like the 'spy in the suitcase' and others, such as Robin cook Christopher Shale, Christopher Story, Robin Cook and Princess Diana."
" A little more info here, firstly a friend at the BBC said Cliff Richard deliberately tried to befriend Jill Dando to find out what she knew, my friend has been convinced that Cliff was reporting to someone.
Princess Diana
In the wake of the passing Lady Diana, the former Princess Diana, a whole host of conspiracy theories were advanced as to the real cause of her death. Immediately there were many suspicious happenings, as well as things which did not occur, that gave rise to plausible plots to kill Lady Di. In each case what became crystal clear was that Lady Di was murdered.
Once that fact became established it became a fairly easy exercise to determine who actually perpetrated the crime, as well as who ordered the hit. The reality at the time was that Diana posed a greater threat to the British Monarchy in a way that no other person associated with the Crown did. Because of her missions to ban landmines worldwide and to help emancipate the Palestinians from Israel's apartheid, her work became quite radioactive.
With this understanding, the following narrative is presented wherein the many facts and prevailing circumstances point directly to a coordinated assassination. As the following exposé clearly indicates, the conspiracy to murder Lady Di was carried out by MI6, the CIA and the MOSSAD. The French DGSE (Directorate-General for External Security) was also involved since they have Paris hardwired in a such a way that only they could have controlled the crime scene and the aftermath as it was.
The sudden death of a loved one invariably creates a state of shock and profound loss among close relatives of the deceased. Occasionally, the unexpected death of a revered public figure creates a similar response within a large segment of the general public. Such was the case when the international news media announced that the Princess of Wales had died from injuries incurred during a car crash in Paris on August 31st, 1997, that killed the driver Henri Paul, her playboy friend Dodi Al Fayed, and seriously injured Fayed's bodyguard Trevor Rees-Jones.
Diana's tragic death not only resulted in a massive outpouring of public sympathy, it also left in its wake several anomalies which strongly suggest that her death was not an accident. The majority of these anomalies were adequately covered by author David Icke in his book entitled "The Biggest Secret" and need not be repeated in depth in this article. The major anomalies may be summarised thus:
A Mercedes limo, escorted by a Range Rover, transported Diana and Dodi from Le Bourget airport to the Villa Windsor, which had been leased from the French government by Dodi's father, then drove to the Al Fayed-owned Ritz Hotel. That evening, the couple was driven to Dodi's apartment, where they dressed for dinner and returned to the Ritz. Dodi's personal chauffeur Philippe Dourneau drove the limo on both trips. On the latter trip, Dourneau took the shortest route between the Ritz and the apartment. In a purported effort to elude paparazzi, the couple left the hotel by a rear exit shortly after midnight in a Mercedes S280 limo, en route to Dodi's apartment. The vehicle was much lighter than the previous limo (a Mercedes 600) thus rendering it much more vulnerable than the earlier used limo in the event of a crash, and was driven by Henri Paul, the acting Head of Security at the Ritz. Why was Paul, who had left for the night, recalled to drive the vehicle instead of a professional chauffeur? Unlike Dourneau, Henri Paul wasn't licensed to drive either limo.
Instead of taking the shortest route to Dodi's apartment, Paul took a circuitous route in a direction away from the apartment. Why?
Three paparazzi later claimed that Paul departed the Ritz at a high speed. This claim was contradicted by footage from the hotel's security cameras showing the Mercedes leaving at a normal speed, with Paul driving in a responsible manner.
According to the police, Henri Paul's blood alcohol level was very high, yet the Ritz security cameras revealed that Paul arrived at the hotel shortly after 10:00 pm and displayed no erratic behaviour while parking his car, nor later in the hotel. Upon arrival at the hotel, Paul was in regular contact with Al Fayed bodyguards Trevor Rees-Jones and "Kes" Wingfield. Neither of them observed any evidence suggesting that Henri Paul was intoxicated.
Oxygen purportedly was administered at the crash site to the injured Diana by Dr Frederick Mailliez, who later made contradictory statements concerning the event.
Investigative Judge Hervé Stephan attributed the crash to Henri Paul's drunkenness, yet failed to interview key witnesses such as bodyguard Trevor Rees-Jones or persons claiming to have observed a collision between the Mercedes and a white Fiat Uno.
A spokesperson at the British Embassy in Paris claimed that the embassy staff was unaware that Princess Diana was in the city, a claim refuted by the fact that two very senior members of MI6 were at the embassy on the same day of her arrival.
Prince Philip, the Club of the Isles and an Occult Bureau
The Oswald LeWinter documents, whether authentic photocopies or possibly forgeries of authentic documents imply that Prince Philip, Duke of Edinburgh, instigated the resolution of the Diana problem, while some journalists point the finger solely at the House of Windsor. I feel that this is overly simplistic since it ignores the connection between the Windsors, the Illuminati and Freemasonry.
In 1967, the largest assembly of senior freemasons ever held, gathered in London not only to commemorate the 250th anniversary of the founding of the United Grand Lodge of England but also to inaugurate the Queen's first cousin, the Duke of Kent, as its new Grand Master. The United Grand Lodge, through its offspring the Quatuor Coronati Masonic lodge, is the command centre for orchestrating the activities of the various Christian, Jewish and Muslim religious fundamentalist groups for the purpose of fomenting WW III. The daily activities of the lodge are under the direction of the Marquis of Northampton, who spearheads the drive to rebuild the Third Temple on Jerusalem's Temple Mount in conjunction with Lord Jacob Rothschild.12
The United Grand Lodge is interconnected with the very politically powerful Illuminati sub-group known as the Club of the Isles, which is headed by Queen Elizabeth II, the Chief Operations Officer being her second cousin Prince Philip. This covert body of cold-blooded reprobates is composed of the various European Royal Houses, the Rothschild's, City of London financiers and senior policy makers. Because its members are major stockholders in transnational corporations including Royal Dutch Shell, Anglo American Gold, Lonrho, Rio Tinto Zinc and Lloyds of London, the Club of the Isles exerts dominance over the global availability of raw materials.
A profit accrued from its participation in such transnational corporations enables the Club of the Isles to pursue its primary agenda: an eighty percent reduction in the human global population within the present century.
This genocidal agenda is being perpetrated by exerting the club's influence over major environmental organisations. Under the guise of protecting endangered wildlife species, the Club of the Isles has been instrumental in the establishment of wildlife preserves in Africa. These animal preserves primarily are used for the training of African mercenaries and agent provocateurs, who subsequently foment civil wars in nations such as Rwanda and the Sudan. Is it just a coincidence that some of the park rangers employed in these preserves are "former" members of Britain's Special Air Services, and that the founder of the World Wildlife Federation, Sir Julian Huxley, also was the president of the Eugenics Society? Are all the men shot by these park rangers actually poachers, or are some of them local political activists opposed to the corrupt policies of their national leaders? Is the Club of the Isles simply a revamped and more insidious Eugenics Society, not only intent upon the genocide of a major segment of humankind by means of war and famine, but also upon the elimination of what it deems errant members of the British nobility?
Prince Philip, who later became president of the World Wildlife Federation, was quoted in an August 1988 interview with Deutsche Presse-Agentur as stating: "In the event that I am reincarnated, I would like to return as a deadly virus, in order to contribute something to solve overpopulation." That this malevolent quote wasn't merely a slip of the tongue is evidenced by the fact that the prince made a similar statement in 1986 in the foreword to the book "If I Were an Animal." If the Club of the Isles allegedly is capable of orchestrating genocide in furtherance of global population reduction (an agenda seriously hampered by Diana's activist role in banning land mines) doesn't it lend credence to the claim made in the aforementioned Oswald LeWinter documents that it was Prince Philip who requested resolution to the Diana problem?
This very elite geopolitical group also is the controlling arm of a covert occult network consisting of the most senior members of the various British intelligence agencies, who are strongly influenced by the politically powerful aristocratic family of Jesuits, the Cecil family. It is within this convoluted network of satanically oriented occult groups that someone with more spare time and resources than me will discover the remaining clues to the tragic deaths of Diana and Dodi.
Diana and Palestine
Mossad could not have the world's most famous woman (even more famous than the Queen) supporting Palestine, especially when there is a genocide against the Palestinian people to steal their land for a greater Israel.
All of these things happened under Zionist Tony Blair's "New"
Labour, Blair doesn't keep it secret he is Zionist and a lover of Israel, so with his lies about Saddam Hussein's WMD's and with the Israeli links to all of the stuff mentioned above (and more) was Blair behind them all along with Mossad?
Well, that's for you to believe or brush under the carpet in case you are scared to be called anti-semitic.
https://thecolemanexperience.wordpress.com/2014/04/22/mossads-links-to-filthy-Britain/
http://www.aljazeera.com/news/2017/01/israel-lobby-anti-semitism-battle-uk-labour-party-170113073206692.html
PLEASE COMMENT BELOW.
The Site is open to the public. Therefore, consider your comments carefully and do not include anything in a comment that you would like to keep private. By uploading or otherwise making available any information to the Author in the form of user generated comments or otherwise, you grant the Author the unlimited, perpetual right to distribute, display, publish, reproduce, reuse and copy the information contained therein. You are responsible for the content you post. You may not impersonate any other person through the Site. You may not post content that is obscene, defamatory, threatening, fraudulent, invasive of another person's privacy rights or is otherwise unlawful. You may not post content that infringes the intellectual property rights of any other person or entity. You may not post any content that contains any computer viruses or any other code designed to disrupt, damage, or limit the functioning of any computer software or hardware.
My work is provided free of charge but relies on the generosity of its readers to help us continue our work. If you can afford it could you please donate HERE thankyou.