Tony Blair and the paedophile connection.
Does ex-PM,Tony Blair, have important information for officers investigating Britain's VIP paedophile-ring?
One of Tony Blair's ministers was among a group of men suspected of sexually abusing children at a home run by a convicted paedophile.
But the probe was halted soon after an ex-social services boss told police of his alleged evening visits in the early 1980s.
Official documents seen by the Daily Mirror during a 16-month investigation reveal former residents told detectives that a group of paedophiles attacked children in a private flat in the home.
But two former Lambeth social services employees involved in the case suspect a cover-up because experienced detective Clive Driscoll was removed from the investigation and given other duties.
One, a former manager who alerted police in 1998, said: "One wonders why Scotland Yard would be so desperate to stop it being investigated.
"I believe it was stopped because somebody in power was trying to prevent any further investigation into the politician."
And Dr Nigel Goldie, a council boss in charge of child protection in 1998, said:
"There were some allegations that ­children were being abused by one or two prominent persons.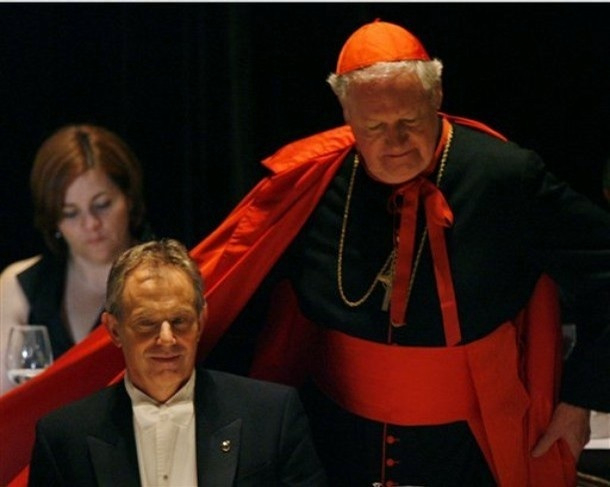 "There were a lot of very senior people trying to put a lid on it. There was ­something very unfortunate about the way the whole thing was dealt with."
"… children's homes throughout the UK have been used as child-brothels by top people and the abuse has been covered up by top policemen.
Clive Driscoll began his investigation of child sex abuse in the London borough of Lambeth in 1998.
Clive Driscoll "suddenly found himself booted off the case and put on 'a disciplinary' after revealing ­politicians were among the suspects."
In December 2013, the Independent reported on the police search of the home of Tony Blair's close chum, Greville Janner :
" Police investigating allegations of historic child abuse linked to children's homes in Leicestershire have searched the home of the Labour peer Greville Janner. Lord Janner's legal team confirmed on Friday that he was assisting police with their inquiries after officers reportedly spent several days searching his home in Golders Green, north London.
The 85-year-old, who served as an MP in Leicester for 27 years, has not been arrested and police did not indicate what was taken away from the flat. The father-of-three was accused of child abuse in a court case in 1991 but was not prosecuted and was given all-party support in the House of Commons when he described his ordeal and said there was "not a shred of truth" in the claims against him."
" On his 51st birthday, Paul Boateng, another Labour Peer, was serenaded in the House of Commons by Michael Jackson, who was on a visit to the UK, organised by Uri Geller and Greville Janner.
In the 80′s a child-abuse scandal swept the London Borough of Lambeth, where thousands of children were subjected to horrific abuse in council-run care homes. The abuse was carried out with the full complicity of Lambeth social services and the police.
By a strange coincidence, the head of social services throughout this period was none other than Janet Boateng, the wife of Paul Boateng.
Quite why she has never been investigated for any wrongdoing is a complete and utter mystery."
It's a little know fact that Cliff Richard is close pals with the Blairs:
" It's comforting to find that beloved Christian singer Cliff Richard has friends in high places.
He kindly lent his villa in Barbados to close chum Tony Blair. Cliff was so concerned that Tony was looking 'haggard' after starting the Iraq war that he took it upon himself to do a good deed.
Tony's wife Cherie Blair QC is also close to Cliff. She loves nothing better than to attend award ceremonies with Cliff and let the world know what a great guy he is.
They've even been joined by another pal, TV personality Melvyn Bragg. Some voices have alleged that Cliff and Melvyn share a rather repulsive hobby that the average person would find sickening.
Other voices have alleged that Cliff is linked to notorious boy-brothel Elm Guest House and used the pseudonym, Kitty.
Yet others claim that Cliff is a person of interest to Operation Fernbridge officers and may be linked to the murder of Jill Dando, who knew all about the paedophile ring at the BBC.
Some have questioned why Cliff recently renounced his British citizenship and is now a fully-fledged Barbadian."
In a bizarre twist, Cliff also owns a home in Portugal, not far from where Madeleine McCann disappeared in 2007.
Gerry and Kate McCann were immediately given high-level support from the UK government and were assigned the help of Clarence Mitchell to act as their spokesperson.
Mitchell was one of the first reporters at the scene of Jill Dando's murder in Fulham and no doubt works for the UK Intelligence Services.
The McCann family are themselves from Leicester and Gerry has many friends in high places in the area.
Another visitor to the Warner holiday complex in Praia da Luz at the time of Maddie's disappearance was Philip Edmond Hodge, the nephew of Margaret Hodge (yet another Labour peer).
Margaret Hodge has been implicated in the Islington care home scandal where again thousands of children were abused in council-run care homes.
Despite this scandal leading to the tragic death of Jason Swift, Hodge was never investigated and was instead, quite unbelievably, given the job of Children's Minster, by Tony Blair.
In 1994, Frank Beck died in Whitemoor prison whilst serving a staggering 5 life sentences for alleged child abuse. Frank Beck had been implicated in the abuse of boys in Leicestershire care homes.
Frank Beck had always maintained his innocence and claimed he was imprisoned because he'd exposed alleged abuse by a high-profile politician. Frank Beck was appealing against his conviction and sentence. Leave to appeal and legal aid were granted in January 1993 and Anthony Scrivener QC, one of Britain's most eminent lawyers and former chairman of the Bar, agreed to take the case.
Frank Beck's solicitor said at the time of his death 'He was very impatient for the appeal to go ahead. His death came out of the blue. Normally the case would lapse and die with him but his family and close friends are discussing the possibility of carrying on with the appeal. This would not be unprecedented.'
Beck was convinced there was enough new evidence and material that was not put before the original court due to non-disclosure by the prosecution which would have made the original conviction unsafe and proved his innocence.'
In 2011 the following anonymous comments were left on a blog which was discussing his death:
" In 1991, after accusing Janner of paedophilic behaviour with a teenager, Frank Beck was arrested and charged with the sexual and physical abuse of children in his care over a thirteen-year period. At his trial Beck stated that: –
"One child has been buggered and abused for two solid years by Greville Janner".
Immediately after this, Janner who just happens to be, ironically, a long time member of the boy scouts association, and Sir David Napley, his solicitor, went to Police headquarters in Leicester."
Frank Beck was a resident of Braunstone in Leicester when the events described above were taking place. When Janner was ennobled in 1997, he took the title, Lord Janner of Braunstone.
The man responsible for ennobling Greville Janner was Tony Blair.
The following very interesting comments were left : " I was in the courtroom when beck gave his evidence in full, his death by food poisoning in custody was very convenient for all those he said he had supplied the boys to in the local area ."
" Blair had a macabre sense of humour as Braunstone is the area Frank Beck used to live in. Beck was guilty. But he almost nailed Greville Janner."
In 2010, Sean Copland published a list of possible paedophiles in power.
It included the following entries:
Gordon Brown
" In the early months of 2003, just prior to the illegal illegal invasion of Iraq, and working in conjunction with a London-based freelance journalist who had thoroughly double-checked exposures published by the Scottish 'Sunday Herald' newspaper, I publicised details of a child-sex ring linked to senior ministers within the Blair government.
I initially published my findings, stemming from discreet leaks from a secret list provided by the American FBI to the 'Sunday Times' newspaper, and concomitantly discovered that Tony Blair had issued a gagging order to suppress all further discussion of a scandal that would most certainly have brought a swift end to his administration and made Britain's collusion in the destruction of Iraq impossible.
The articles I wrote concerning the "Operation Ore" cover-up and the 100-year blackout order imposed upon the report concerning the Dunblane massacre of children used and abused by senior Scottish Labour government ministers"
Anthony Charles Lynton Blair (Tony Blair, former PM of the UK)
" He was charged and appeared in court at Bow Street magistrates court for importunity in a public toilet with another male. He tried to get sexual favour from the other man, little did he know that the toilet was being watched by police. Blair was fined £500, and walked away with nobody knowing who he really was as he used his middle names to cover who he was. Charles Lynton is the name used, and his friends in court got him off with a fine, because he is one of them."
Some voices claim Jill Dando was murdered because she was about to expose the BBC paedophile ring, linked to Government and Royalty.
Tony Blair was the Prime Minister in 1999, at the time of Jill Dando's death.
His official spokesman was the dark spin master, Alastair Campbell.
It's a little known fact that Alastair Campbell was interviewed by the police over Jill's murder.
According to an article in the Daily Record entitled :
" BLAIR'S MAN QUIZZED OVER DANDO MURDER"
" The Prime Minister's official spokesman was quizzed by police over the murder of TV presenter Jill Dando, it was revealed yesterday.
Alastair Campbell , one of Tony Blair's closest aides and friends, met officers so they could eliminate him from their inquiries.
He was interviewed after a newspaper wrongly claimed he had joked about being Jill's lover.
Campbell was never seriously suspected of gunning down Jill at her London home in April 1999 but officers felt obliged to interview him.
Campbell said he had met her when he reviewed the papers on her breakfast TV show.
He also said: "I believe the police had a number of calls pointing out my resemblance to their e-fit picture of the killer."
Some voices claim Tony Blair's best pal, Peter Mandelson, is a major player in the VIP paedophile network.
" Lord Mandelson yesterday maintained his silence over the extent of his contact with disgraced financier Jeffrey Epstein.
The former Business Secretary did not respond to questions about why the convicted paedophile's 'little black book' featured ten entries for him and his partner Reinaldo da Silva.
The online contacts book had 16 numbers for Prince Andrew and home numbers for politicians".
Some claim that Peaches Geldof was recently murdered because she knew all about paedophile-ring operating in this country.
Bob Geldof is very close to Tony Blair and Peter Mandelson.
" Paula Yates once wrote that that Bob Geldof had threatened her repeatedly with,
"Don't forget, I am above the law".
This was also the favourite saying of Jimmy Savile, whenever he was threatened with exposure.
Has Bob Geldof hoodwinked the British public, Savile-style, by pretending to be a charitable. caring, family-man?
By a strange coincidence, Bob Geldof owned the Planet 24 TV company along with lord Waheed Alli and his partner Charlie Parsons.
Waheed Alli appears to have a strange hold over Parliament and is seen as a powerful behind-the scenes "fixer", along with his pal Peter Mandelson."
According to Aangirfan, Tony Blair attended a private boarding school called Fettes, in Edinburgh.
One of his teachers, Knox Cunningham, was involved in a high-level paedophile ring. Blair, who liked to call himself Miranda, absolutely adored Cunningham.
By a strange coincidence, the Fettesgate Scandal of the early 90′s uncovered a "magic circle" of corruption and rent-boys allegations going to the very top of the Scottish Legal system.
The talk was of a "magic circle" reaching the highest levels of the Scottish legal system and the potential blackmail of judges by "rent boys".
As there appears to be no end to Tony Blair's paedophile connections, why don't the police call him in for a chat and he can tell them everything he knows?
The Geldofs, Murder and Satanism
Peaches Geldof is the daughter of Sir Bob Geldof and Paula Yates.
In 2008, Bob Geldof made a speech, in Melbourne, about the tragedy of Third World poverty.
He was paid A$100,000 for his one-off speech which included a luxury hotel room and first-class airfares.[28]
Bob Geldof is a friend of George Bush and Tony Blair.
Paula Yates and Peaches were always wasted on alcohol and drugs.
According to an article at Mail Online, a Satanic sex cult is ensnaring a growing number of celebrities, such as Peaches Geldof, Jimmy Page and Jay-Z.
Led Zeppelin's Jimmy Page "has taken part in occult magical rituals" and bought Satanist Aleister Crowley's former home.
The Mail does not mention that the CIA and its friends have long used Satanic sex cults to mind-control top people.
Maxwell-Knight, a friend of Aleister Crowley. From: 'One Girl's War, by Joan Miller (1986) we learn about Charles Henry Maxwell-Knight, formerly head of Britain's MI5 spy agency. "His first wife Gladys, I learnt, died in the Overseas Club after some sort of occult misadventure in which the notorious Aleister Crowley was involved." (http://www.bilderberg.org/sis.htm)
Peaches Geldof has shown an interest in Scientology and Judaism.
Now, reportedly, Peaches Geldof has told her Twitter fans that she is a devotee of Ordo Templi Orientis, known as OTO.
OTO originated in Germany or Austria between 1895 and 1906.[4]
OTO, in the UK, was founded by Aleister Crowley.
Crowley's form of worship "involved sadomasochistic sex rituals" with young males and females, spells, and the use of hard drugs...
Crowley and Peaches. DailyMail
THE ORDO TEMPLI ORIENTIS (OTO) is today's best-known of the hard-core, British-based Satanist cults.
Like the Lucis Trust, the OTO is a direct off-shoot of the work of Britain's leading twentieth-century Satanist, Theosophy leader Aleister Crowley.
OTO enthusiasts claim this organisation is an offshoot of Templar freemasonry, and hint at very influential protection from among Templars very high in British freemasonry.
Reportedly, there are now OTO lodges around the UK.
John Bonner, 62, from East Sussex, is the head of OTO in the UK.
Former FBI agent Ted Gundersen investigated Satanic circles in LA.
He found that Crowley's teachings suggested human sacrifice, preferably of 'an intelligent young boy'.
"POLICE are probing claims that disgraced DJ Jimmy Savile was filmed cavorting naked in a Satanic sex club.
"Operation Yewtree detectives investigating the shamed star's sordid antics are hunting for the footage which is said to have been preserved on DVD.
"The sleazy film is said to show other celebrities and civic bigwigs taking part in naked Satanic rituals at a secret club called The Chamber.
"The meeting place in Whitby, North Yorks, had a ceremonial whipping post in the centre of the room. Occult symbols including pentagrams and goat's heads adorned the walls."
Could all of this be linked to the of Satanic paedophile rings involved with Hampstead and Pizza Gate?
PLEASE COMMENT BELOW.
The Site is open to the public. Therefore, consider your comments carefully and do not include anything in a comment that you would like to keep private. By uploading or otherwise making available any information to the Author in the form of user generated comments or otherwise, you grant the Author the unlimited, perpetual right to distribute, display, publish, reproduce, reuse and copy the information contained therein. You are responsible for the content you post. You may not impersonate any other person through the Site. You may not post content that is obscene, defamatory, threatening, fraudulent, invasive of another person's privacy rights or is otherwise unlawful. You may not post content that infringes the intellectual property rights of any other person or entity. You may not post any content that contains any computer viruses or any other code designed to disrupt, damage, or limit the functioning of any computer software or hardware.
ALL OUR WORK IS FREE SO PLEASE SUPPORT BDTN AND DONATE HERE TO HELP US CONTINUE. Thankyou.