Angela Eagle Hits Out At Homophobia Of 'Unreconstructed' Hard Left
Points out Brexit unleashed intolerance against gay people.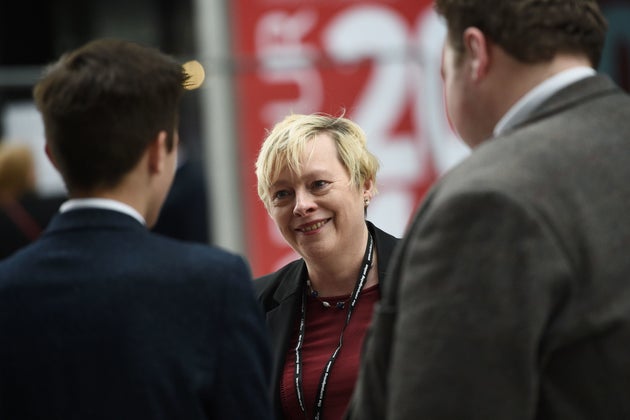 Angela Eagle has hit out at the homophobia of "unreconstructed" parts of the hard Left and condemned a rise in hate crimes against gay people in the wake of the Brexit vote.
In an interview with HuffPost UK, the former Business Secretary described as "depressing" the fact that Labour had been forced to investigate allegations that someone at a local party meeting had called her a "dyke" which local constituents said never happened.
The Wallasey MP insisted that most Labour members were not homophobic but said that a wider 'intolerance' of minorities had followed the EU referendum this summer.
Eagle also rounded on those who refused to believe she was the target of the brick attack in her Merseyside constituency, one of the several factors that led Labour's National Executive Committee to suspend her local party.
She added that her critics had refused to believe she had been the victim of a death threat, even though a man had pleaded guilty to threatening to slit her throat if she became Labour leader.
In her interview, Eagle also:
* revealed that the Daily Mail once asked her teachers if she had had a lesbian relationship while at primary school
* said it 'would have been good' if Jeremy Corbyn had turned up to vote for the SNP's Turing Bill
* refused to deny that Unite chief Len McCluskey had joked 'you hold her, I'll hit her'
* said she had no 'regrets' about challenging Corbyn and that he would have to show 'progress' at the next general election
Asked if some on the far Left were guilty of homophobia, she replied: "In some places, that's absolutely true. They are pretty unreconstructed some of them, yes."
She added: "We've got some people that were politically formed in the 1970s that aren't looking at the kind of era we are in now".
Eagle said that the wider online abuse suffered by many women was in real danger of deterring people from public life, and urged social media firms and the legal authorities to do more to stamp it out.
Referring to the Labour National Executive Committee investigation into homophobic abuse by some in her local Labour party, she said: "Things happened there [at the Wallasey AGM] that the NEC are looking at.
"And it is depressing, but largely I don't think that most members of the Labour party would think that way.
"But we do have to see what's happened to post the Brexit vote, where we've seen a 41% increase in hate crimes for black and ethnic minority people. And we've seen a huge increase in crimes against LGBT people as well.
"And I think that kind of move towards intolerance and what's been unleashed is not very pleasant. And we can only rise above that by reasserting our values on the equal dignity of all human beings."
According to one study, homophobic hate crimes spiked by 147% in the three months after June's Brexit vote.
BDTN Editor Ste Matthew Murray himself is gay and not once has he received any homophobic abuse since "Brexit" online or in public. This whole racism and homophobia since Brexit is just BS. He also has said that he wishes Angela Eagle would shut up because it's like she is hell bent on ruining the Labour party, does she want us to be united and win a general election? because that won't happen if she carries on moaning about the homophobic abuse that doesn't exist.
PLEASE COMMENT BELOW.
ALL OUR WORK IS FREE SO PLEASE DONATE HERE TO HELP US CONTINUE. Thankyou.