Jeremy Corbyn Sacks Hilary Benn As Shadow Foreign Secretary Over Attempted Leadership Coup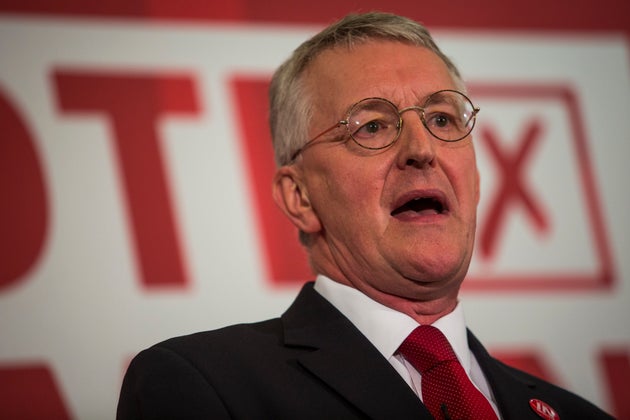 Hilary Benn has been axed as Shadow Foreign Secretary by Jeremy Corbyn in a dramatic early hours sacking amid rumours of a leadership coup.
A spokesman for the Labour leader announced Corbyn had "lost confidence" in Benn and decided to strip him of his key front bench role.
The move came just hours after the Observer claimed Benn was planning to lead a Shadow Cabinet revolt against Corbyn later this week in response to the Labour leader's perceived lack of effort during the EU referendum campaign.
The Observer reports Benn was ringing Labour MPs over the weekend in order to gauge support for a coup against the party leadership - and was asking fellow Shadow Cabinet members to resign en masse in order to force Corbyn out.
Benn himself spoke out in the early hours of Sunday morning, saying there had been "widespread concern" among Shadow Cabinet members about Corbyn's leadership after this week's Brexit vote.
"In particular," Benn said, "there is no confidence in our ability to win the next election, which may come much sooner than expected if Jeremy continues as leader."
Corbyn's spokesperson said: "Jeremy has lost confidence in him."
Speaking on the BBC's Andrew Marr Show this morning, Benn said he called Corbyn on Saturday night to tell the Labour leader he had lost confidence in him
He said: "It has become increasingly clear that there is the growing concern in the Shadow Cabinet and in the Parliamentary Labour Party about his leadership and I said to him that I no longer had confidence in his leadership and he then dismissed me from the Shadow Cabinet, which is understandable.
The Leeds Central MP added: "He's a good and decent man but he's not a leader."
Benn went on: "A number of people will say this is not an ideal time. There's never an ideal time but it isn't working and therefore I felt it was important to speak out
"We have a wider duty to the party and I think the country needs a strong and effective Labour opposition."
Referring to the EU Referendum, Benn said: "I don't blame Jeremy for the outcome of the referendum, but I think people saw he didn't bring a great deal of enthusiasm to the task of arguing the case for Britain remaining in the European Union."
The sacking could trigger a wave of resignations within the Shadow Cabinet, with other members seeing Benn as providing key balance to the Corbynites in the party.
One former Cabinet Minister, Ben Bradshaw, urged those remaining in the Shadow Cabinet to "now act to save the party" in a call-to-arms against the leadership.
Today, some of the most senior figures in the Labour Party are trying to push their leader out too. There have been concerns about Jeremy Corbyn's performance for months and months. But it was his role, or lack of role, in the campaign to keep the UK in the EU, and his sacking of Hilary Benn in the middle of the night, that has given members of the shadow cabinet the final reasons to quit. Several have already gone, as many as half will be gone by the end of the day, I understand.
And documents passed to the BBC suggest Jeremy Corbyn's office sought to delay and water down the Labour Remain campaign. Sources suggest that they are evidence of "deliberate sabotage".
One email from the leader's office suggests that Mr Corbyn's director of strategy and communications, Seumas Milne, was behind Mr Corbyn's reluctance to take a prominent role in Labour's campaign to keep the UK in the EU. One email, discussing one of the leader's speeches, said it was because of the "hand of Seumas. If he can't kill it, he will water it down so much to hope nobody notices it".
A series of messages dating back to December seen by the BBC shows correspondence between the party leader's office, the Labour Remain campaign and Labour HQ, discussing the European campaign. It shows how a sentence talking about immigration was removed on one occasion and how Mr Milne refused to sign off a letter signed by 200 MPs after it had already been approved.
The documents show concern in Labour HQ and the Labour Remain campaign about Mr Corbyn's commitment to the campaign - one email says "what is going on here?". Another email from Labour Remain sources to the leader's office complains "there is no EU content here - we agreed to have Europe content in it". Sources say they show the leader's office was reluctant to give full support to the EU campaign and how difficult it was to get Mr Corbyn to take a prominent role.
Mr Corbyn has insisted publicly that he campaigned hard to keep the country in the EU and that he made a number of speeches around the country, and attended many campaigning events. But many shadow cabinet ministers believe his performance in the campaign has shown that he is simply not capable of leading the party. One senior figure told me: "People have just had enough and are embarrassed to be part of it." Jeremy Corbyn's team are adamant that he will stand again for the leadership, and they believe the party's members would back him again.
He has had persuasive and vehement backing from the party's members who he energised last summer. But as the Labour party reels from Thursday's result, it is not clear that support will be as solid as it was. MPs report that some of their members are contacting them to say they've changed their minds about Mr Corbyn. We'll see. It's possible that within days, both of our two main political parties will be looking for a new leader.
Please comment below.