Britain Morons First's deputy leader has re-joined Twitter.
Jayda Fransen is no doubt hoping to replicate some of the success her group has had on Facebook, but on a platform where you can't so easily get away with buying fans or exploiting the memory of murdered soldiers, it's not quite going to plan.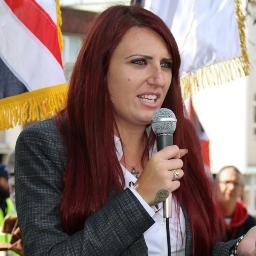 She began by trying to refute articles about her but failed to give any supporting evidence whatsoever.
Fransen then fell for the misguided furore around the word 'Easter' being supposedly dropped from Easter egg packaging.
Please comment below.
The Site is open to the public. Therefore, consider your comments carefully and do not include anything in a comment that you would like to keep private. By uploading or otherwise making available any information to the Author in the form of user generated comments or otherwise, you grant the Author the unlimited, perpetual right to distribute, display, publish, reproduce, reuse and copy the information contained therein. You are responsible for the content you post. You may not impersonate any other person through the Site. You may not post content that is obscene, defamatory, threatening, fraudulent, invasive of another person's privacy rights or is otherwise unlawful. You may not post content that infringes the intellectual property rights of any other person or entity. You may not post any content that contains any computer viruses or any other code designed to disrupt, damage, or limit the functioning of any computer software or hardware.