Did you know two white women were also charged in the Rotherham sex abuse case one was jailed and one got a suspended sentence but the media don't seem to be mentioning them in their headlines or even showing their images it seems the media are only showing images of the Muslim men jailed?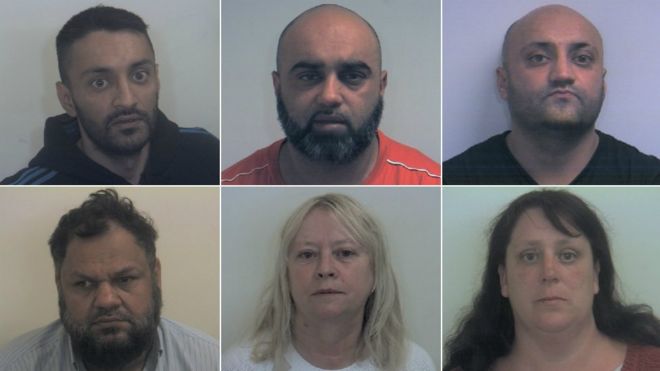 Of course, they are all sick perverts and we don't condone what any of them have done but why is the mainstream media only showing images of the Muslim men jailed and not the white British women? well obviously because it's all part of the British mainstream Nazi media agenda against Muslim people.
Funny how they are trying to blame the whole sexual abuse thing on Muslims when in other news it is all about BBC news covering up child abuse from white men Jimmy Savile and Stuart Hall who abused young girl and boys aged from 8-15.
This post was written by a white guy before you start calling us racist.
Three brothers who groomed, raped and sexually assaulted 15 teenage girls in Rotherham have been jailed.
Arshid Hussain, 40, was jailed for 35 years while siblings Basharat, 39, and Banaras, 36, were jailed for 25 and 19 years respectively.
Their uncle, Qurban Ali, 53, who was found guilty of conspiracy to rape, was jailed for 10 years.
Associate Karen MacGregor, 58, was jailed for 13 years and Shelley Davies, 40, given an 18 month suspended term.
Please comment below.
The Site is open to the public. Therefore, consider your comments carefully and do not include anything in a comment that you would like to keep private. By uploading or otherwise making available any information to the Author in the form of user generated comments or otherwise, you grant the Author the unlimited, perpetual right to distribute, display, publish, reproduce, reuse and copy the information contained therein. You are responsible for the content you post. You may not impersonate any other person through the Site. You may not post content that is obscene, defamatory, threatening, fraudulent, invasive of another person's privacy rights or is otherwise unlawful. You may not post content that infringes the intellectual property rights of any other person or entity. You may not post any content that contains any computer viruses or any other code designed to disrupt, damage, or limit the functioning of any computer software or hardware.