Louis Theroux reported Jimmy Savile to the BBC in
2001
after discovering he had slept with an underage girl,
Dame
Janet Smith said yesterday in her long-awaited report.
The documentary maker told an executive producer about the 'credible allegation', but it was decided not to report the information to police.
It was ten years before Savile died, and a woman in her 40s came forward to say that when she was 15, in the late 1960s or early 1970s, she had been the DJ's 'girlfriend' and had had sex with him.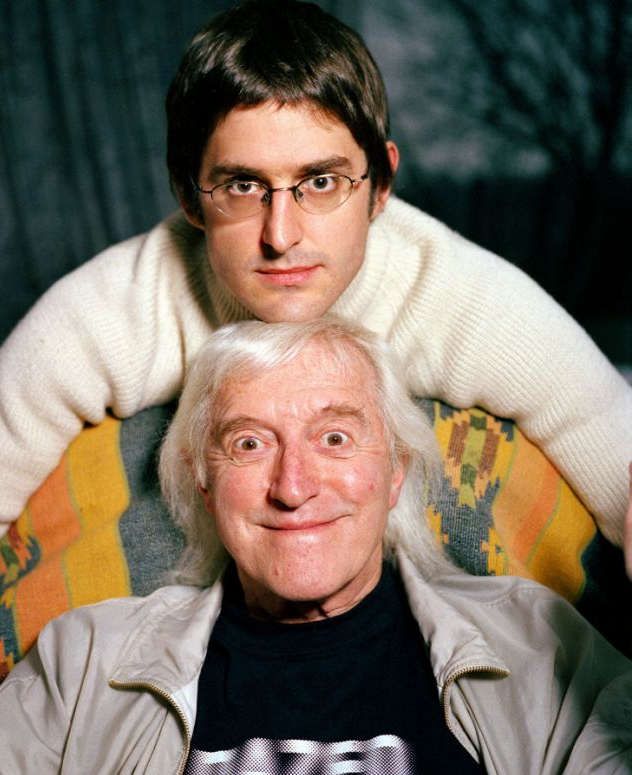 She apparently approached Theroux because she wanted to correct the impression given by Savile in a documentary, When Louis Met Jimmy, that he had never had a girlfriend.
Theroux met the woman and her friend, who was another 'ex-girlfriend', a year after the film was broadcast in 2000, and they told him that 'contrary to what Savile had said in the documentary, Savile had had many girlfriends and they were two of them… and that several of Savile's ex-girlfriends were friendly with each other', said Dame Janet.
'One of them had started a sexual relationship with Savile when she was only 15. Mr Theroux said that he, therefore, realised that Savile had committed a criminal offence by having sex with a girl of 15.
'However, because it had happened over 30 years previously and because the woman in question was then in her 40s and capable of making a complaint to the police if she wanted to and was very concerned (like the other woman he met) that Savile did not know that they were meeting Mr Theroux, he did not consider that he should do anything about what he had been told.'

Theroux did speak to an executive producer at the BBC, David Mortimer, who told the inquiry he remembered 'becoming aware of the serious nature of the information and discussing how the information should be dealt with'.

But as the meeting with the women had taken place in confidence, neither felt they could take it further without permission. Dame Janet said neither could be criticised for that decision.
---
---
Jimmy Savile dressed as a Womble to rape a 10-year-old boy and sexually assault girl, 12, in his dressing room after filming 1973 Top of the Pops Christmas special
---
Jimmy Savile raped a ten-year-old boy and sexually assaulted a girl of 12 while he was dressed as a Womble, a long-awaited report into his 'monstrous' campaign of sex abuse has revealed.

The BBC DJ attacked the children in his personal dressing room minutes after walking off the set of a Top of the Pops pre-Christmas show in 1973.

He told the children, who had excitedly persuaded relatives to take them to TOTP special, that it would be 'their little secret'.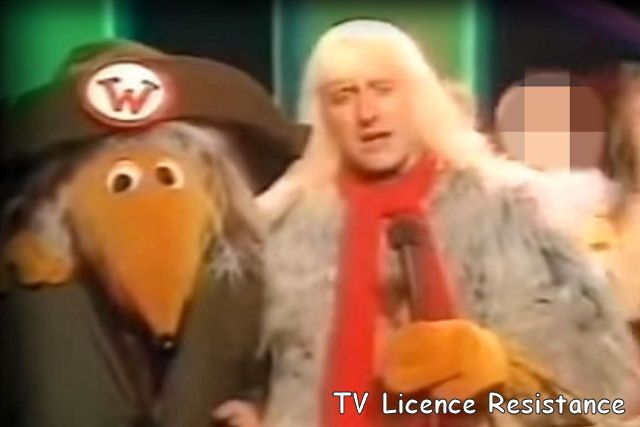 Jimmy Savile raped a ten-year-old boy and sexually assaulted a girl of 12 while he was dressed as a Womble, a long-awaited report into his 'monstrous' campaign of sex abuse has revealed
The girl, who was 12 at the time, had travelled to London from Scotland to visit her aunt, who accompanied her to the studios in December.

She and the boy, 10, were taken to meet Savile, who was still dressed in the Womble costume he had presented the show in.

The woman, who now lives abroad, told the review that after chatting for around 15 minutes Savile raped the boy. He then sexually assaulted her and made the boy watch while he was 'sat still like a statue'.

The sickening attacks were just two examples of Savile's depraved reign of abuse at the BBC revealed in Dame Janet Smith's £10million, three-year report released yesterday.

In it, she attacks the BBC for allowing Savile and shamed broadcaster Stuart Hall to abuse 93 victims.

She found Savile abused 72 victims, including 11 under 12 and that the BBC missed 'clear opportunities' to uncover his misconduct, showing more concern for its own reputation than for the victims.

Incidents of abuse were reported to BBC staff, but victims were dismissed as 'silly' and brushed aside.

But the corporation was accused of a whitewash after the inquiry into the Savile scandal cleared bosses of any blame.

Dame Janet said that although she had spoken to 117 people at the corporation who had heard rumours of the DJ's paedophile behaviour, that did not mean senior managers must have known.

Liz Dux, a lawyer for some of victims, condemned the inquiry as an 'expensive whitewash'.

The BBC was left humiliated after being forced to admit that its culture masked a 'monstrous' campaign of sex abuse by Savile and by TV presenter Stuart Hall.

Its director general, Tony Hall, told victims: 'A serial rapist and a predatory sexual abuser both hid in plain sight at the BBC for decades. The BBC failed you when it should have protected you.'

Lord Hall's mea culpa came as Dame Janet published her inquiry into how Savile, who presented Jim'll Fix It and Top Of The Pops, was able to get away with his crimes.

She sparked controversy by insisting that there was no evidence BBC bosses knew about his 'grotesque' activities.

'I simply could not draw the inference from the fact that some people had heard rumours that the senior managers had,' Dame Janet said.

'I am sorry if the victims do not have confidence in my conclusions [but] you just simply cannot make that leap from 'People have heard rumours ergo the BBC must have known'. It simply doesn't work.'

In a leaked draft of her report, published last month, Dame Janet had warned another 'predatory child abuser could be lurking undiscovered in the BBC even today'.

But in the final version, she concluded more vaguely that 'I don't think there is any organisation' that could be completely confident it does not harbour a child abuser.

She insisted 'nobody put me under any pressure' to change the wording but admitted the culture of fear that silenced so many victims persists today.

Yesterday sacked Radio 2 DJ Tony Blackburn threatened to sue the BBC, for making him a 'scapegoat' and letting him be 'hung out to dry' in the wake of the inquiry.

Dame Janet's report rejected the 73-year-old's testimony that he was not quizzed by BBC bosses in 1971 after a 15-year-old dancer claimed that he molested her.

The teenager later committed suicide. Lord Hall said the version of events Blackburn gave to the review panel 'fell short of the standards of evidence that such an inquiry demanded'.

Dame Janet's three-year review found:

Savile abused at least 72 victims at the BBC, including 34 girls and boys under 16. One was aged eight. Eight victims, including a ten-year-old, were raped. Two were attacked while he wore a Womble costume

The BBC missed 'clear' opportunities to uncover his misconduct, showing more concern for its own reputation than for the victims

Incidents of abuse were reported to BBC staff, but victims were dismissed as 'silly' and brushed aside

Staff may have helped 'procure' women to be abused.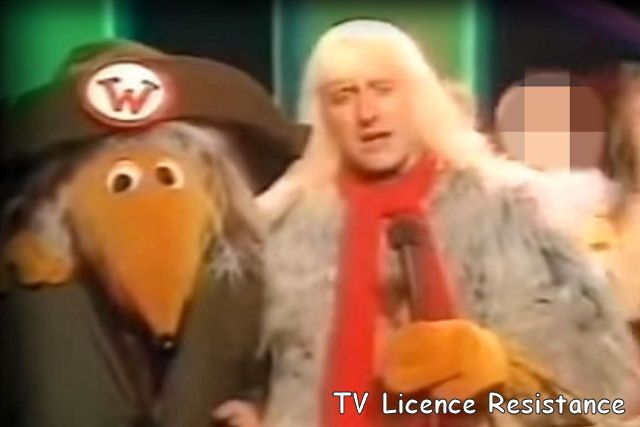 -page report painted a picture of a 'bullying' culture at the BBC where 'virtually unassailable' presenters were treated with 'kid gloves', and staff were afraid to speak out for fear of losing their jobs.

Abuse victims who complained were often told not to make a fuss. One of Savile's victims was advised, 'Keep your mouth shut, he's a VIP'.

'The BBC regarded these girls as something of a nuisance,' Dame Janet said.

Yesterday, Lord Hall admitted that Savile's VIP status was a problem of the BBC's own making.

'Savile used his celebrity to promise access to excitement and fun and then grotesquely exploited it… We, the BBC, did that. Jimmy Savile committed many crimes in many places. But, uniquely, it was the BBC that made him famous. We made him a VIP,' he said.

Savile and Stuart Hall – the subject of a separate damning report yesterday – were allowed to pick off their targets almost unchecked.

Savile's producer on his Radio 1 show, Ted Beston, was 'prepared to act as a provider', while the DJ used his fame to 'gratify himself sexually' in virtually every BBC building, 'whenever the opportunity arose', Dame Janet said.

Her report – which spans four volumes – is a shocking catalogue of abuse by BBC stars, and subsequent cover ups.

It comes more than three years after the Savile scandal sparked the biggest crisis in the BBC's history.

Savile died in October 2011, two days before his 85th birthday. He had been knighted in 1990 for his charity work and although known to be eccentric was respected.

But a year after his death allegations began to emerge that he had used his work for the BBC and for the NHS to sexually abuse children and young women. The revelations led to Dame Janet's inquiry but victims criticised her findings as a whitewash and a waste of time.

Miss Dux, a lawyer at the firm representing 168 victims of Savile at the BBC and NHS, said: 'Despite millions having been spent on the inquiry, my clients will feel let down that the truth has still not been unearthed.'

Sylvia Edwards, 58, who was groped live on Top Of The Pops by Savile in 1976 when she was 18, said: 'It's on video, for God's sake. The report is diabolical, a waste of time. How could the BBC not have known? I think it's atrocious. How high do they have to be before they can say they didn't know about it?'

Lord Hall said he took 'no satisfaction' from Dame Janet's findings. 'It seems to me that the BBC could have known. Just as powerful as the accusation, 'You knew' is the question, 'How could you not have known?' he said.

He vowed to crack down on the BBC's 'culture of deference', and do more to make staff aware that they can raise the alarm without negative consequences.

It would appear that the broadcaster has a mammoth task on its hands. Dame Janet said that the 'atmosphere of fear' that left Savile free to abuse his victims still persists.

Many staff spoke to the review only if they were guaranteed anonymity to protect their careers.
http://www.tvlicenceresistance.info/forum/index.php/topic,12593.msg117455.html
Please comment below.
The Site is open to the public. Therefore, consider your comments carefully and do not include anything in a comment that you would like to keep private. By uploading or otherwise making available any information to the Author in the form of user generated comments or otherwise, you grant the Author the unlimited, perpetual right to distribute, display, publish, reproduce, reuse and copy the information contained therein. You are responsible for the content you post. You may not impersonate any other person through the Site. You may not post content that is obscene, defamatory, threatening, fraudulent, invasive of another person's privacy rights or is otherwise unlawful. You may not post content that infringes the intellectual property rights of any other person or entity. You may not post any content that contains any computer viruses or any other code designed to disrupt, damage, or limit the functioning of any computer software or hardware.