The English Defence league, Britain First, UKIP and
the British National Party have been compared to the
Islamic State by Derbyshire police who say they are
"just
as much of a real threat".
Speaking to Peak FM Sergeant John Booker said police treat far-right groups the same way they would IS, as they have just as much potential to lead people towards committing terrorist acts.
Booker said: "The biggest threat is very much centred on Syrian and Iraq based groups such as Islamic State however we certainly can't ignore the right wing issues and the far right issues that do exist in our communities and are just as much of a real threat in terms of community division, hatred and deplorable acts as anything else."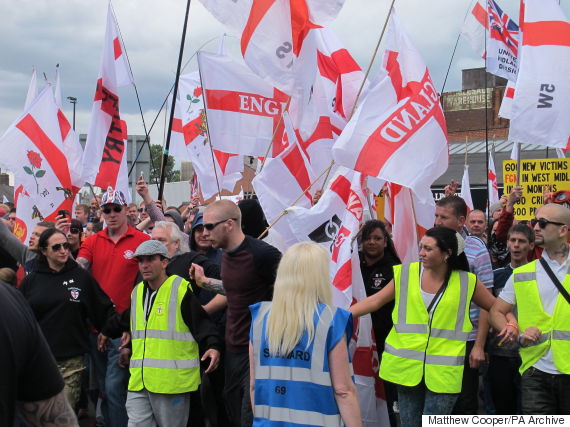 Derbyshire Police have said the English Defence League are as "much of a threat" to public order as the Islamic State
The comments come after the EDL complained to the BBC about it being mentioned in a television drama called 'Silent Witness', which the broadcaster describes as a crime drama "focusing on a team of forensic pathology experts and their investigations into various crimes".
"While we can appreciate the need to heighten the drama with an emotive description such as 'the murky world of hate-crime and counter-terrorism' as published in the program description published on TV Guide and numerous other websites both in the UK and abroad, there are ways to do this without attacking the English Defence League which is a legal, volunteer-led organisation," EDL chairman Alan Spence wrote to the broadcaster.
He continued: "The murky world of hate crime and counter-terrorism is a totally different world from which the EDL operates. We are no closer to that world than are UKIP, the Conservative Party or any other legal political grouping or national charity."
Spence explains that in series 19 "you clearly link us to a character who is wanted for murder".
"It is contemptuous for the BBC to imply that the English Defence League is an organization which would attract someone who would murder anyone, regardless of whether they are Muslim or not," Spence wrote.
The EDL chairman went on to explain that a character in the episode mentioned the EDL directly.
"It would have taken very little effort to invent a fictitious organisation, or even none at all, but instead your actor was directed to explicitly name the English Defence League as the 'hate-crime' organisation. We are therefore drawn to the inevitable conclusion that a deliberate decision was made to cast such aspersions on our organisation as a whole and its members individually."
Please comment below.
The Site is open to the public. Therefore, consider your comments carefully and do not include anything in a comment that you would like to keep private. By uploading or otherwise making available any information to the Author in the form of user generated comments or otherwise, you grant the Author the unlimited, perpetual right to distribute, display, publish, reproduce, reuse and copy the information contained therein. You are responsible for the content you post. You may not impersonate any other person through the Site. You may not post content that is obscene, defamatory, threatening, fraudulent, invasive of another person's privacy rights or is otherwise unlawful. You may not post content that infringes the intellectual property rights of any other person or entity. You may not post any content that contains any computer viruses or any other code designed to disrupt, damage, or limit the functioning of any computer software or hardware.