Labour MP Simon Danczuk facing police inquiry over rape allegation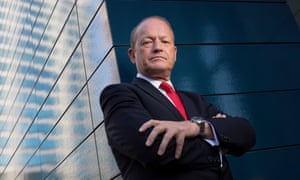 Lancashire police confirm they are investigating allegation against 49-year-old man understood to be the MP for Rochdale
Labour MP Simon Danczuk is facing a police investigation after a rape allegation was made against him.
A spokesman for Lancashire Police said: "We can confirm that we have received a report of a historic rape dating back to 2006.
"We are in the very early stages of an investigation and inquiries are ongoing. The complaint relates to a 49-year-old man."
It is understood that the allegation is against Danczuk, who has been under mounting pressure after a series of revelations about his private life.
Responding to the claims, the MP for Rochdale said: "These claims are malicious, untrue and extremely upsetting.
"The police have not been in touch with me but I will co-operate fully with any inquiries and am confident my name will be promptly cleared."
Danczuk has been MP for Rochdale since 2010 and hit the headlines two years later after exposing Cyril Smith, the late Liberal MP, as a paedophile. He co-wrote a book on Smith and first named him as a child abuser in parliament, months before the police confirmed that the late MP should have been prosecuted over abuse claims.
He has been a prominent campaigner against child abuse in recent years and has also been a fierce critic of the Labour leader, Jeremy Corbyn, whom he said last October he would try to oust if the party did badly in this May's devolved and local elections.
He has admitted to having a drinking problem and his personal relationships have also hit the headlines in the past year.
At the weekend, Danczuk's first wife accused him of being a sexual predator in an interview with the Mail on Sunday. Sonia Rossington, who was married to the MP for a decade, accused him of drug-taking and sexually abusive behaviour during their marriage.
http://www.theguardian.com/politics/2016/jan/04/labour-mp-simon-danczuk-facing-police-inquiry-rape-allegation?CMP=share_btn_fb
Please comment below.
The Site is open to the public. Therefore, consider your comments carefully and do not include anything in a comment that you would like to keep private. By uploading or otherwise making available any information to the Author in the form of user generated comments or otherwise, you grant the Author the unlimited, perpetual right to distribute, display, publish, reproduce, reuse and copy the information contained therein. You are responsible for the content you post. You may not impersonate any other person through the Site. You may not post content that is obscene, defamatory, threatening, fraudulent, invasive of another person's privacy rights or is otherwise unlawful. You may not post content that infringes the intellectual property rights of any other person or entity. You may not post any content that contains any computer viruses or any other code designed to disrupt, damage, or limit the functioning of any computer software or hardware.