Zayn Malik is Pro Palestine unlike his manager Cowell who is 100% Pro Israel, One Direction made Cowell millions of pounds and he spent £100,000 of that money on the IDF (Israel Defence Force) is this why Zayn really quit?
Zayn Malik's dream came true when he won X Factor as part of a boy band put together by Simon Cowell himself but not only did they win X Factor they have become the worlds biggest selling group since The Beatles and made Cowell

MILLIONS

!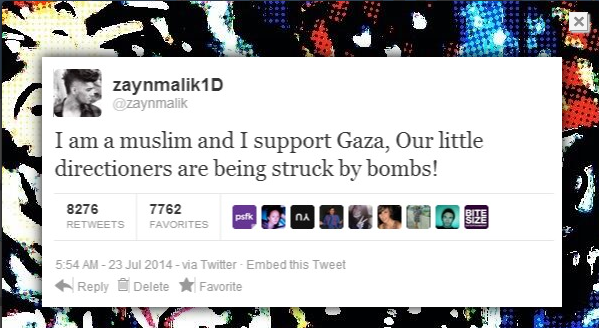 Whilst Simon Cowell's girlfriend was pregnant she made him pay £100,000 to the IDF but why? why would he want to please his girlfriend by giving Israel money? What does she know about him?
When Cowell gave the IDF this money it was the end of 2013 and not long after they recorded their new album in 2014 then Zayn decided to leave One Direction in 2015 was this because of Cowell's evil zionist ways?
GOOD ON HIM FOR SUPPORTING PALESTINE!
http://www.mirror.co.uk/news/world-news/simon-cowell-donates-100000-israeli-2789377
Please comment below.