Controversial security firm G4S has enjoyed a 20 per cent surge in government contracts despite a string of blunders, new figures show.
The company – which failed to recruit enough guards for the London Olympics – earned £394 million from the taxpayer in 2012-13, up from £328.5million a year earlier.
The revelation sparked claims it was becoming the 'private army' of the state.
Security: The controversial firm G4S has seen a 20 per cent increase in its income from the UK government, raising fears of an over-reliance on a 'private army'
With just weeks before the London Olympics opened in July last year, G4S admitted it would not be able to provide the thousands of guards it had promised.
Its reputation was severely damaged when 3,500 troops were called in to provide security at the biggest events.
In the wake of the debacle MPs called on the government to think again before awarding more lucrative contracts to the firm.
But it seems to have done little to dent its reputation in Whitehall, and next week it will provide security guarding the world's most powerful men and women at the G8 summit at Lough Erne.
Labour MP Barry Sheerman, who obtained the figures on government spending with G4S,
said he was worried about an increasing over-reliance on a small number of companies.
He warned: 'The trouble is a lot of contractors are in a monopoly. They do seem to be swelling up and getting bigger and bigger and we are getting to the stage where the over-reliance on one company troubles you.
'I am becoming increasingly worried about the monopoly position that G4S have in security services.
'They are becoming the private army of Her Majesty's Government. There is something going on that I think we need to shine a spotlight on.'
Most of the hike in Government spending on G4S contracts was down to an extra £51 million spent by the Ministry of Justice on contracts with the company.
A spokesman for the department said the increase was down to G4S being given contracts to run prisons at Birmingham and Oakwood, as well as managing the facilities of a large part of Her Majesty's Courts and Tribunal Service.
The Department for Work and Pensions more than doubled its spend on G4S contracts – up from nearly £13.8 million to more than £32.1 million.

G4S: A HISTORY OF BLUNDERS
The UK-based security firm traces its roots back to a guarding company founded in Denmark in 1901.
G4S was formed when Group 4 merged with Securicor in 2004. The company has a long record of blunders including:
In 1993 Group 4 became the first private company to run prisoner escort services,m and lost seven inmates in three weeks
A year later a hunger striker escaped from Campsfield House detention centre, guarded by Group 4
In 1997 it emerged the firm had transferred a prisoner between two vans on a petrol station forecourt
Three prisoners escaped from Peterborough Crown Court in 2001
In 2011, G4S staff lost a set of cell keys just days after taking over Birmingham Prison Workers put an electronic tag on criminal Christopher Lowcock's artificial limb
In 2012 the firm failed to train enough guards for the London Games which meant 3,500 soldiers had to be recalled from leave
In March this year a G4S guard at Heathrow ordered Royal Navy engineer Nicky Howse to change out of her uniform before flying to the US because it was 'offensive'
A contract awarded to G4S for the Government's Work Programme accounted for the increase, Employment Minister Mark Hoban said in his answer to Mr Sheerman's question.
The figures do not include spending by the Department for Communities and Local Government which has not yet answered the MP's question.
Mr Sheerman said it was 'amazing' that so much was being spent on G4S when it was failing to pay Olympic subcontractors that were 'not complicit in the debacle' of the company's handling of security at London 2012.
'I thought it was amazing that such an amount is being spent on one major contractor, also at a time when we still know that G4S have failed to pay subcontractors who have worked for them on the Olympic site,' Mr Sheerman said.
He said some small and medium-sized businesses who worked on the Olympic site were made to subcontract to G4S by Locog, but now have not been paid.
'I don't know why they haven't paid them, it is just bad principles,' he said.
'They were told at one stage in the development they were running the logistics and security of the athlete's village.
'Once that was finished they became subcontractors and told to be subcontractors to G4S.
'One would have thought Locog would have leaned on G4S to do the honourable thing to the subcontractors.
'They were not complicit in the debacle that occurred when the army came in.'
Kim Challis, G4S CEO of government and outsourcing solutions, said: 'We have been working with the UK government for more than two decades, delivering the highest levels of service and under a high degree of monitoring and oversight.
'We have won every contract we have been awarded by bidding in a highly competitive environment, based on delivering an effective service for the best deal for the taxpayer, with a number of providers challenging for the work.
'We have a strong track record of delivering for our UK Government customers and are proud of the service our 11,000 employees provide to them, and the general public, every single day.'
Former G4S company boss
Nick Buckles, who admitted the London 2012 contract had been a 'humiliating shambles, last month quit his £1.2million-a-year role as chief executive.
He clung on to his job in the immediate aftermath of the Olympics debacle but the firm's reputation suffered badly and in recent weeks poor trading caused shares to slump by more than 13 per cent in one day.
This month, G4S's AGM was interrupted by protesters making reference to Jimmy Mubenga – an Angolan man who died while being deported from the UK by G4S guards.
In July last year, prosecutors said they would be taking no action against the three G4S staff over the death.
Police staff throughout the county of Lincolnshire are now proudly wearing the logo of their corporate bosses, as Government cuts force privatization of the nation's peacekeepers.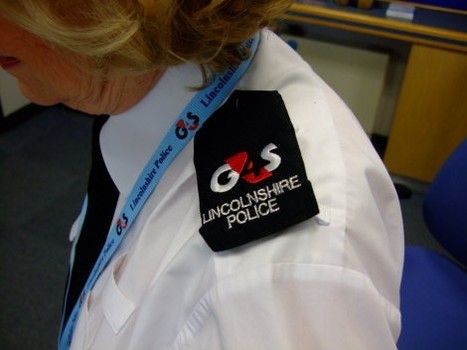 G4S, a controversial multi-national security corporation has now virtually taken over all civilian positions in the region, including front counter staff at police stations, control room operators, custodians at local holding cells, and even inquiry officers. In total 550 employees who previously worked for Lincolnshire Police Authority are now considered private sector workers, essentially accountable only to company policy, with 200 or so already sporting the G4S stamp.
Paul McKeever, chairman of the Police Federation has voiced his concern [1][2], saying the switch over will confuse the public and make police work more difficult.
"People know what a fully warranted officer can do and when you find someone who doesn't possess those powers but appears to, that will cause confusion.
The deterrent effect of having warranted officers is lost."
He also called it a worrying step towards private on-the-street policing.
"The shift towards privatisation by government is something we are very concerned about and this is another example of the boundaries being pushed."
He said: "On its own it is not looked on as a big thing but when you see it as what is going on in the Police Service it should be a real concern for the public.
"The British Police model has worked well for the best part of 200 years and the communities understand the police are independent, accountable and act with impartiality and discretion."
Spalding, a small market town in the county has already proposed having private security officers patrolling the streets. Agora Capes Security, lead by former Royal guard Nectario Greenfield, suggested his security staff march around neighborhoods and the town center with cameras, at the cost of local residents [3]. With little interest expressed by the public and a WideShut Facebook campaign against the move, it was eventually dropped, but they may be back for round two now that G4S has stepped in to the market.
"[G4S] are doing what any private company would want to do, which is make profit and expand their organisation," concluded McKeever.
Lincolnshire is not the only region being carved up by businessmen. Major cities like London have already implemented a beat of private police, and representatives from 38 local level authorities attended a seminar at the Lincolnshire Police headquarters last week to see how they too could adopt privatization.
The Community Safety Scheme in London, first adopted by Labour (which suggests privatization was in the works for a long time) has not only blurred the line of accountability, but done away with it completely. Whereas traditional private security have no legal authority to enforce the law over any British citizen, the Government have quietly granted London security companies working for councils, hospitals and private establishments some of the same powers as fully qualified police without requiring the same level of training. Powers include the ability to issue fines, confiscate alcohol or tobacco, direct traffic, stop vehicles and even demand somebody's name and address [4], which for the police themselves is a gray area.
A private security firm is a business owned by private individuals seeking to make a profit by lending their services primarily to other corporate businesses; such as shopping centres, sporting events, bars etc. Their job is to make money privately; your bobby on the beat's job is to protect the people and keep the peace under the rule of law. This melting of police and private forces is further compounded by the privatization of infrastructure. The more public areas and roads that are sold off the less need for real police, and the easier it is to implement private forces.
Thanks to the corrupt banking system that will see generations of citizens pay off the Government's credit card through cuts to public services and hidden taxes, Britain's police service is in the process of losing over 30,000 workers [5]. Funding will be cut 20% by 2015, and the number of on the duty officers is now the lowest in a decade [6]. These figures have to be made up from somewhere and the likes of G4S are ready to reap the profits.
Although not many people have heard of them G4S is the world's second-largest private sector employer. Operating in 125 countries with 630,000 employees, the corporation secures many major airports and Government buildings and manages cash for the main British and European Banks. They also have a land-mine clearing subsidiary, do risk management and consultancy for other corporations in order to protect them during disasters and terror attacks, and are even cashing in on the recession as a contractor in the Government's 'Welfare to Work' scheme. Their most questionable venture is their private prison systems that they operate all over the world, from South Africa to the UK.

The list of controversies surrounding G4S are just as long as their subsidiaries. These include charges of poor human rights standards and poor worker conditions, cheating on anti-terrorism drills, violating weapons inventory and handling policies, using excessive force and gross neglect causing death of detainees, preventing freedom of the press at the BP oil spill; and racism, abuse and lethal force against asylum seekers.
Source:
http://msnoworldorder.co.uk/newsblog/2636-warning-of-a-private-army-running-britain-after-government-increases-spending-on-security-firm-g4s-by-65million
Please comment below.