"If anyone deserves an apology it is them," Mr Watson added, to cries of "shame" and animal noises from the Conservative Party benches.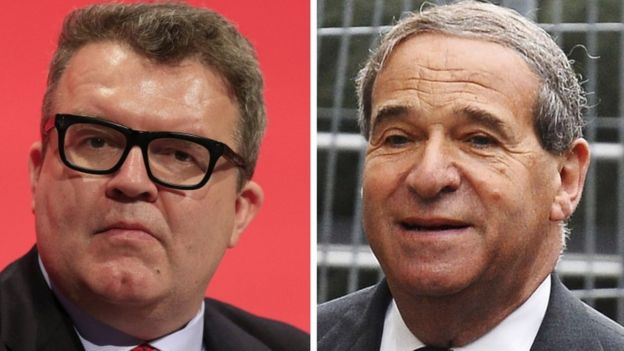 Labour deputy leader Tom Watson has refused to apologise for demanding that police investigate sex abuse claims against the late Lord Brittan.
His refusal came after Tory MP Sir Nicholas Soames said he had "vilely traduced" the former home secretary.
But Mr Watson told the Commons he was "right to demand that guidelines were adhered to", and said abuse survivors had been "belittled for too long".
Lord Brittan died unaware that police had dropped a rape inquiry against him.
'Terrified to speak out'
Mr Watson added: "It is not for me to judge the validity of these claims.
"I believe very many victims of this country have been too terrified to speak out for too long. It's not all over just because a few famous people have gone to prison."
Mr Watson also made reference to remarks made by Prime Minister David Cameron earlier, who urged him to "examine his conscience" over his actions, after Lord Brittan's brother called for an apology over "unfounded accusations".
"I think we all need to examine our consciences in this House, we presided over a state of affairs where children have been abused and then ignored, dismissed and then disdained.
"If anyone deserves an apology it is them," Mr Watson added, to cries of "shame" from the Conservative Party benches.
Speaking afterwards Sir Nicholas said Mr Watson had "failed miserably" to respond to criticism.
He said Mr Watson's statement to MPs earlier was a "non-apology" and that his conduct was "completely unacceptable".
The Crown Prosecution Service found in July 2013 that there was not enough evidence for a prosecution over the claim Lord Brittan had raped a 19-year-old female student in 1967.
Mr Watson later called for a full review of all abuse allegations made against the peer, who died in January.
Officers subsequently interviewed Lord Brittan, who had terminal cancer at the time, but no charges were brought.
Police have since said they would not have taken further action over the rape claim.
But the MP said he had wanted the claims against Lord Brittan, whose career included two years as home secretary in Margaret Thatcher's government, "properly investigated"