Is this another US false flag? Russian plane with over 200 Russians aboard has been downed in Egypt no survivors, ISIS have admitted it was them after Russia has spent weeks bombing the fuck out of them and the US and UK were not happy with Russia killing ISIS (Syrian Rebels funded by CIA) did the US down the plane really? Or could have ISIS really done it?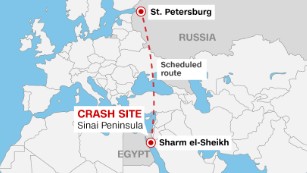 Plane was at 31,000 feet when contact was lost
• The crash site is in the northern part of Sinai, near a town called Housna -- 300 kilometers (185 miles) from the Red Sea resort of Sharm el-Sheikh, the Egyptian Prime Minister's office says Egyptian air force planes have spotted the crash site from the air, officials say.
• Two-hundred twenty-four people were reported to be aboard, including 217 passengers and seven crew members. The passengers include d17 children. The Belarus Ministry of Foreign Affairs said its embassy in Egypt is working to determine whether Belarusians were on board.
• The airliner was on its way from Sharm el-Sheikh, at the southern tip of the Sinai Peninsula, to St. Petersburg, according to Sputnik International, an official Russian news agency.
• Egyptian air traffic control says it lost contact with the airliner 23 minutes after takeoff, Sputnik reports. Many of the passengers are reported to be Russians returning from vacations. The plane disappeared at 6:20 a.m. local time.
• The plane was flying at 31,000 feet when it disappeared from radar screens, the Egyptian civil aviation ministry says.
• The plane, Kogalymavia Flight 9268, was an Airbus 321, Russian state media report. The airline is commonly known as Metrojet.
Please comment below.