When the poor are having to pay for the leaders and bankers mistakes whilst they live the life of luxury something is terribly wrong
There is a war on the poor
Major shocks, such as tsunamis, stock market crashes, or whatever, have often been systematically exploited, as opportunities to introduce all kinds of changes, because leaders can get by with it when people are in shock. She explains how this is a conscious strategy, and is actually referred to by the perpetrators as the shock doctrine, as in shock and awe. Indeed, it is basically the 'weapon of choice' for implementing major changes these days. It's in vogue, on a roll.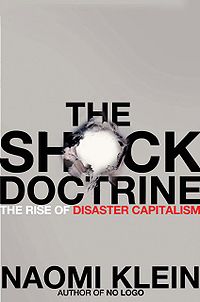 The aftermath of 9/11 is a classic example of Shock Doctrine, regardless of who knocked down the buildings. Actually it's more than classic, it set new records both for shock intensity and for shock payoffs. One whole constitution, along with international law, gone in a puff of pulverized tower.

The economic-collapse shock is I would say on a still grander scale than 9/11. It's a big slow-motion shock that will be affecting more and more of us directly, and it's benefits are only beginning to be reaped. The bailout scams we've seen, and the beginning of austerity, but the centralization of global power is only beginning, the foundations being laid, as per recent G20 actions. Kissinger made it very clear in a recent statement, that this is a grand opportunity, not to be missed, and that the most should be made of it. He speaks of course from the perspective of his patrons, the central bankers.

In other words, from the Kissinger perspective, now is the time to pull out all the stops, send in all the reserves, go for a full-court press. With that as a background, and taking into account the billions that have been spent on bio-weapons R&D by the Pentagon.
In May 2010, as Britain headed into its last general election, elites all across the western world were gripped by austerity fever, a strange malady that combined extravagant fear with blithe optimism. Every country running significant budget deficits – as nearly all were in the aftermath of the financial crisis – was deemed at imminent risk of becoming another Greece unless it immediately began cutting spending and raising taxes. Concerns that imposing such austerity in already depressed economies would deepen their depression and delay recovery were airily dismissed; fiscal probity, we were assured, would inspire business-boosting confidence, and all would be well.
People holding these beliefs came to be widely known in economic circles as "austerians" – a term coined by the economist Rob Parenteau – and for a while the austerian ideology swept all before it.
But that was five years ago, and the fever has long since broken. Greece is now seen as it should have been seen from the beginning – as a unique case, with few lessons for the rest of us. It is impossible for countries such as the US and the UK, which borrow in their own currencies, to experience Greek-style crises, because they cannot run out of money – they can always print more. Even within the eurozone, borrowing costs plunged once the European Central Bank began to do its job and protect its clients against self-fulfilling panics by standing ready to buy government bonds if necessary. As I write this, Italy and Spain have no trouble raising cash – they can borrow at the lowest rates in their history, indeed considerably below those in Britain – and even Portugal's interest rates are within a whisker of those paid by HM Treasury.
On the other side of the ledger, the benefits of improved confidence failed to make their promised appearance. Since the global turn to austerity in 2010, every country that introduced significant austerity has seen its economy suffer, with the depth of the suffering closely related to the harshness of the austerity. In late 2012, the IMF's chief economist, Olivier Blanchard, went so far as to issue what amounted to a mea culpa: although his organisation never bought into the notion that austerity would actually boost economic growth, the IMF now believes that it massively understated the damage that spending cuts inflict on a weak economy.
Meanwhile, all of the economic research that allegedly supported the austerity push has been discredited. Widely touted statistical results were, it turned out, based on highly dubious assumptions and procedures – plus a few outright mistakes – and evaporated under closer scrutiny.
It is rare, in the history of economic thought, for debates to get resolved this decisively. The austerian ideology that dominated elite discourse five years ago has collapsed, to the point where hardly anyone still believes it. Hardly anyone, that is, except the coalition that still rules Britain – and most of the British media.
I don't know how many Britons realise the extent to which their economic debate has diverged from the rest of the western world – the extent to which the UK seems stuck on obsessions that have been mainly laughed out of the discourse elsewhere. George Osborne and David Cameron boast that their policies saved Britain from a Greek-style crisis of soaring interest rates, apparently oblivious to the fact that interest rates are at historic lows all across the western world. The press seizes on Ed Miliband's failure to mention the budget deficit in a speech as a huge gaffe, a supposed revelation of irresponsibility; meanwhile, Hillary Clinton is talking, seriously, not about budget deficits but about the "fun deficit" facing America's children.
Is there some good reason why deficit obsession should still rule in Britain, even as it fades away everywhere else? No. This country is not different. The economics of austerity are the same – and the intellectual case as bankrupt – in Britain as everywhere else.