The perverted star wore a hooded robe and mask as he abused the terrified victim in a candle-lit basement.
He also chanted "Hail Satan" in Latin as other paedophile devil worshippers joined in and assaulted the girl at Stoke Mandeville Hospital in Buckinghamshire. The attack, which happened in 1975, shines a sinister new light on the former DJ's 54-year reign of terror.
Savile, who died aged 84 in October 2011, is now Britain's worst sex offender after police revealed he preyed on at least 450 victims aged eight to 47.
The girl kept her torment hidden for nearly 20 years before finally opening up to therapist Valerie Sinason.
Dr Sinason told the Sunday Express she first spoke to the victim in 1992. "She had been a patient at Stoke Mandeville in 1975 when Savile was a regular visitor.
"She recalled being led into a room that was filled with candles on the lowest level of the hospital, somewhere that was not regularly used by staff. Several adults were there, including Jimmy Savile who, like the others, was wearing a robe and a mask.
"She recognised him because of his distinctive voice and the fact that his blond hair was protruding from the side of the mask. He was not the leader but he was seen as important because of his fame.
"She was molested, raped and beaten and heard words that sounded like 'Ave Satanas', a Latin­ised version of 'Hail Satan', being chanted. There was no mention of any other child being there and she cannot remember how long the attack lasted but she was left extremely frightened and shaken."
Savile was a volunteer porter and fundraiser at the hospital between 1965 and 1988 and had his own quarters there.
Five years after the hospital attack, he abused a second victim during another black mass ceremony held at a house in a wealthy London street.
The woman was 21 at the time and was made to attend an orgy, which later took on a darker twist.
Dr Sinason, director of the Clinic for Dissociative Studies in London, said: "A second victim approached me in 1993. She said she had been 'lent out' as a supposedly consenting prostituted woman at a party in a London house in 1980.
"The first part of the evening started off with an orgy but half-way through some of the participants left.
"Along with other young women, the victim was shepherded to wait in another room before being brought back to find Savile in a master of ceremonies kind of role with a group wearing robes and masks. She too heard Latin chanting and instantly recognised satanist regalia. Although the girl was a young adult, who was above the age of consent, she had suffered a history of sexual abuse and was extremely vulnerable."
Both victims contacted Dr Sinason, who is president of the Institute of Psychotherapy and Disability, while she was involved in a Department of Health-funded study into sexual abuse committed during rituals and religious ceremonies. She said: "Both these witnesses did speak to police at the time but were vulnerable witnesses and on encountering any surprise or shock did not dare to give all the details."
The police took no action.
A girl, who we will call Paula to protect her true identity, was just 13 at the time of the ­sickening attack in 1975.
Now aged 50, Paula still suffers horrific flashbacks and cannot sleep properly. She decided to come forward after we revealed last week how Savile raped two women ­during satanic ceremonies in the Seventies and Eighties.
Recalling her torment, Paula described how Savile was sitting on a throne wearing a mask and robes, clutching a trademark cigar.
As he raped her, she described smelling stale smoke on his breath. During her horrific ordeal, one of the devil worshippers sneered: "You definitely fixed this one, Jim!"
Speaking at an address in North London, Paula said: "I was brought in to a dark cellar and made to stand in front of three men in a ­circle, with the man in the middle sitting on a throne-like chair in a bright gown with a cigar in his mouth. A man stood on either side in blue cloaks and masks.
"I was made to stand in front of this chair dressed in only a white gown with nothing underneath and to just stand there while this man looked over me blowing cigar smoke into my face making me feel very sick and terrified.
"Around this slightly raised circle were men and women dressed in black cloaks wearing masks and various costumes.
"I was then taken by the man smoking the cigar, who I recognised as Jimmy Savile, to an altar table where I was stripped of my gown and tied to the altar.
"Savile then climbed on to the table and raped me. Others around him called out Satan's name and laughed hysterically and were worked up into a frenzy."
Paula said she was taken blindfolded to the ritual at a secret venue so she could not identify where she was attacked. She went with the consent of her family, who she said were well-known satanists.
Paula said: "I just felt bile in my throat from this man kissing and touching me and, worse, raping me. I was too terrified to speak. I was told never to speak of this to anyone."
Paula was too traumatised to tell the police. However, she spoke to the Sunday Express after we revealed how Savile raped a 12-year-old girl at a satanic ceremony at Stoke Mandeville Hospital, Buckinghamshire, in 1975 and a 21-year-old woman at a house in central London five years later.
She also took comfort from and praised the courage of the 450 ­victims who came forward as part of the Metropolitan Police's Operation Yewtree to say they too were abused by Savile.
Paula said: "To speak of it after all those years feels like a great weight has been lifted off me at long last. There are many people all around the world who know exactly what men like Savile are capable of and the time has come to bring these atrocities of sheer evil and deprivation to light."
Real Whitby Magazine is a local publication producing some outstanding journalism regarding Savile's links with Scarborough, where his mother "The Duchess" lived and he frequently visited. Yet more police cover-ups and connections with paedophiles, and Satanists are revealed:
"SATANISM AND SADISM AT STOKE MANDEVILLE AND WHITBY


Savile, Jaconelli and others were involved in satanism and used a house in Whitby which had a room known as "the rituals or functions room", or "the chamber", equipped with a whipping-post, black candles and a painted pentagram.




The national press also confirmed the allegations, first made by "Corruption Busters", that Savile was involved in sexual offences connected with Satanism and sadism. The description of the room used for one of these sessions in Stoke Mandeville Hospital in the article is very similar to the description of the room in Whitby used by Savile and Jaconelli, given to Nigel Ward by local witnesses."
Satanic Ritual Abuse involves paedophilia, murder, necrophilia and every manner of defilement imaginable. The photos below show Jimmy Savile's funeral, clearly attended by men wearing Masonic garb.
Photo of Frank Bruno proving him to be a Freemason:
A short video summarising the similarities between Masonic initiation / ceremonies and Witchcraft / Satanic ceremonies.
Jimmy Savile: 'Cast Made Of DJ's Teeth By Police Probing Yorkshire Ripper Murders'
Links between Jimmy Savile and Peter Sutcliffe continue to emerge as it was revealed police investigating the Yorkshire Ripper killings allegedly took a cast of the DJ's teeth to compare to bite marks on some of the victims.
Ex-model and Benny Hill girl Nikki Critcher claims she learned about the cast of Savile's teeth through Harley Street dentist Dr Mace Joffe, who died in 2003.
She told the newspaper: "He told us he had to go up to Leeds and take a cast of Jimmy Savile's teeth. He said he had been told by police that Savile was known to them for using prostitutes and that he had been a potential suspect."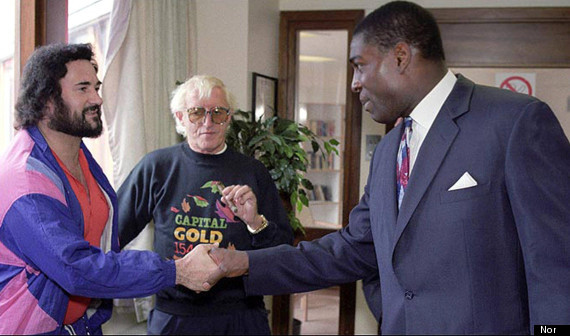 Sutcliffe apparently accused sex abuse victims of Savile of "jumping on the bandwagon", calling the accusations of paedophilia against the former Top Of The Pops host "a load of crap".
He said on the tape: "I can't fault him from my experiences of what he was like. I don't care what these people who are coming out of the woodwork are saying.
"Coming forward after 40 or 50 years or whatever, they are jumping on the bandwagon.
"It only takes a couple of rumours and then it goes like wildfire. I don't believe he raped anyone. I think he kissed quite a few young women but that's as far as he's gone."
In 1991 Savile introduced boxing legend, Frank Bruno, to Sutcliffe at Broadmoor, when Bruno was there to open a new gym.
Broadmoor Hospital, which is managed by the West London Mental Health Trust, told The Huffington Post UK they were considering their response to the leaked tape.
Sutcliffe, who murdered 13 women in the 1970s, added: "It's just going crazy, they love to savage people who are dead, people who can't hit back — or prisoners who can't reply."
Sutcliffe said on the Sun's tape that he did not believe it would have been possible for Savile to have molested a patient in Broadmoor.
He said: "People were always there. He was never alone with anybody, there were always people about. He never did anything at Broadmoor.
Comment Below: