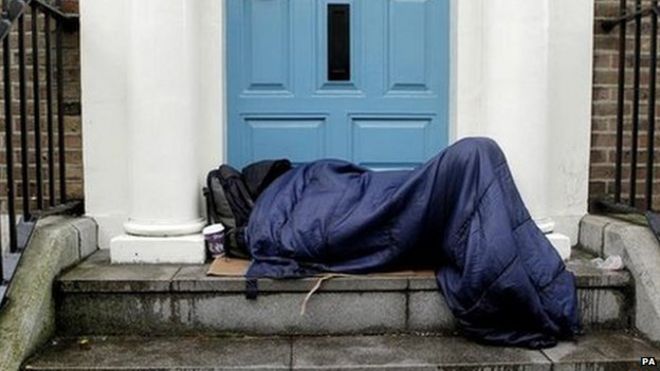 Homeless people in Chester have criticised plans to use new laws to make rough sleeping an offence in the city centre.
Cheshire West and Chester Council wants to introduce a Public Space Protection Order, banning sleeping in the streets, as well as feeding the birds and unauthorised busking.
Failure to comply with the order could lead to a fine of up to £1,000.
The council insisted the aim was to "safeguard the interests of all".
Public Space Protection Orders (PSPOs) were introduced under the Anti-Social Behaviour, Crime and Policing Act in 2014.
Government guidance said PSPOs were intended to deal with issues in certain areas that are "detrimental to the local community's quality of life, by imposing conditions on the use of that area which apply to everyone".
Cheshire West and Chester Council is consulting on plans to introduce a PSPO to "control and restrict" seven activities, including rough sleeping.

Activities to be "controlled and restricted" by Chester's Public Space Protection Order
Rough sleeping

Using so-called 'legal highs'

Drinking alcohol outside licensed premises

Unauthorised busking

Begging

Feeding birds

Urinating (except in public toilets)

Charity Chester Aid to the Homeless runs a homeless shelter providing food, clothing and counselling to homeless people in the city.
Manager Robert Whittall said homeless provision in the city needed to be increased but insisted "criminalising behaviour which is the end result of lots of different factors just isn't the solution".
Shelter user Andy has been sleeping rough in Chester city centre for the last four years. He said the new rules were "outrageous".
"They're trying to say sleeping in the city centre is an act of antisocial behaviour. It's not, it's an act of poverty.
"We sleep in the city centre to stay safe. To tell us we're going to be fined or penalised for staying somewhere safe is wrong in my eyes."
Express your opinion on this story below: (Google+ comments box is further down the page)
Subscribe to BDTN Email Updates:
Tweets by @BDTN1