"We must expel Arabs and take their places."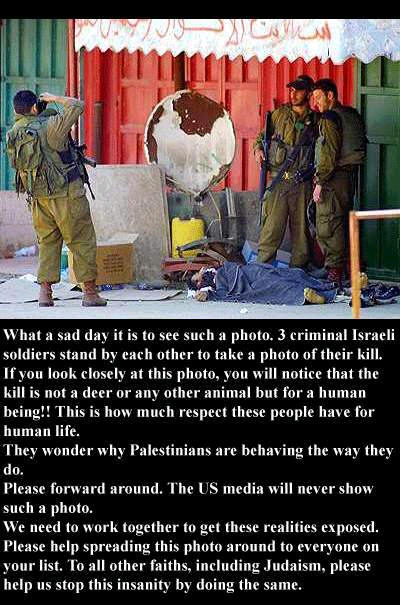 -- David
Ben-Gurion
, 1937, Ben Gurion and the Palestine Arabs, Oxford University Press, 1985.
"The Palestinians are like crocodiles, the more you give them meat, they want more"....
-- Ehud Barak, Prime Minister of Israel at the time - August 28, 2000. Reported in the Jerusalem Post August 30, 2000
"If we thought that instead of 200 Palestinian fatalities, 2,000 dead would put an end to the fighting at a stroke, we would use much more force...."
-- Israeli Prime Minister Ehud Barak, quoted in Associated Press, November 16, 2000.
"I would have joined a terrorist organization."
-- Ehud Barak's response to Gideon Levy, a columnist for the Ha'aretz newspaper, when Barak was asked what he would have done if he had been born a Palestinian.
"We must use terror, assassination, intimidation, land confiscation, and the cutting of all social services to rid the Galilee of its Arab population." - David Ben-Gurion, a.k.a. David Grün (1886-1973), Israeli Prime Minister (1948-53, 1955-63) and Chief Architect of Zionist terrorism and the state of Israel; revered by Israelis as "Father of the Nation"
"Jewish villages were built in the place of Arab villages. You do not even know the names of these Arab villages, and I do not blame you because geography books no longer exist. Not only do the books not exist, the Arab villages are not there either. Nahlal arose in the place of Mahlul; Kibbutz Gvat in the place of Jibta; Kibbutz Sarid in the place of Huneifis; and Kefar Yehoshua in the place of Tal al-Shuman. There is not a single place built in this country that did not have a former Arab population."
-- David Ben Gurion, quoted in The Jewish Paradox, by Nahum Goldmann, Weidenfeld and Nicolson, 1978, p. 99.
"Let us not ignore the truth among ourselves ... politically we are the aggressors and they defend themselves... The country is theirs, because they inhabit it, whereas we want to come here and settle down, and in their view we want to take away from them their country."
-- David Ben Gurion, quoted on pp 91-2 of Chomsky's Fateful Triangle, which appears in Simha Flapan "Zionism and the Palestinians pp 141-2 citing a 1938 speech.
"If I knew that it was possible to save all the children of Germany by transporting them to England, and only half by transferring them to the Land of Israel, I would choose the latter, for before us lies not only the numbers of these children but the historical reckoning of the people of Israel."
-- David Ben-Gurion (Quoted on pp 855-56 in Shabtai Teveth Ben-Gurion in a slightly different translation).
"Everybody has to move, run and grab as many (Palestinian) hilltops as they can to enlarge the (Jewish) settlements because everything we take now will stay ours...Everything we don't grab will go to them."
-- Ariel Sharon, Israeli Foreign Minister, addressing a meeting of the Tzomet Party, Agence France Presse, Nov. 15, 1998.
"There is no such thing as a Palestinian people. It is not as if we came and threw them out and took their country. They didn't exist." - Golda Meir, Prime Minister of Israel, Statement to The Sunday Times, 1969-06-15
"The Palestinians are beasts walking on two legs." — Menahem Begin
"Our race is the Master Race. We are divine gods on this planet. We are as different from the inferior races as they are from insects. In fact, compared to our race, other races are beasts and animals, cattle at best. Other races are considered as human excrement. Our destiny is to rule over the inferior races. Our earthly kingdom will be ruled by our leader with a rod of iron. The masses will lick our feet and serve us as our slaves." - Israeli prime Minister Menachem Begin in a speech to the Knesset [Israeli Parliament] quoted by Amnon Kapeliouk, "Begin and the Beasts," New Statesman, June 25, 1982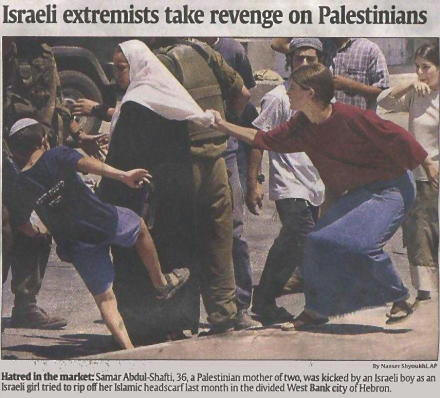 "How can we return the occupied territories? There is nobody to return them to." - Golda Meir (quoted in Chapter 13 of The Zionist Connection II: What price Peace by Alfred Lilienthal)
Today, more than ever, the Palestinian people are enduring an appalling plight. The Israeli army, after having inflicted on them Operation Grapes of Wrath , then Operation Jenin Defensive Shield followed by Operation Rainbow and Operation Day of Repentance, is now inflicting Operation Cast Lead on them. In vain! In vain for, in my view, the State of Israel will not live even as long as the Frankish kingdom of Jerusalem did, that is, 89 years. Most of the Jews there will quit those lands in the same panic as the French colonists quitting Algiers in 1962 or the American army abandoning Saigon in 1975. Palestine will become once more a free country where Muslims, Christians, Jews and others will be able to live together. At least that's the wish I myself hold, I who for 34 years have been treated in France like a sort of Palestinian. I said this on December 11th and 12th, 2006, during the conference on the Holocaust organised in Tehran under the aegis of President Ahmadinejad: we all have the means to help in the liberation of Palestine. These means consist in making known to the whole world the findings of revisionist research. All credibility must be taken away from the alleged Holocaust , which has become the number one weapon of Zionism and the State of Israel; this lie is the sword and shield of that State. It would be absurd to try to defend against the Israeli's military armament whilst sparing their number one worldwide propaganda weapon. [2009 jan] Interview given by Professor Robert Faurisson
"Whoever allows himself to claim that the alleged Nazi gas chambers and the alleged genocide of the Jews are a historical reality is, whether he likes it or not, giving support to a horrid lie that has become the number one war propaganda weapon of the State of Israel, a colonialist, racist and imperialist State. Let whoever has the nerve to support the Holocaust myth look at his hands! His hands are red with the blood of Palestinian children!" [2009 jan] Interview given by Professor Robert Faurisson
Express your opinion on this story below: (Google+ comments box is further down the page)
BDTN would like you to know that we do not force you to believe any of our news and you shouldn't believe any news source fully always do your own research, Research on this news story from Google here:
Subscribe to BDTN Email Updates:
Tweets by @BDTN1