Cliff Richard makes a flying visit to Britain as police investigation into child sex abuse
Read more: http://www.dailymail.co.uk/news/article-3064914/Cliff-makes-flying-visit-Britain-police-investigation-continues.html#ixzz3Yz9w90SL
Follow us: @MailOnline on Twitter | DailyMail on Facebook
So cliff is travelling back to the UK for questioning over him abusing young boys in the Elm Guest House and other places but something rang a bell with me when I saw this is it just a coincidence that it was reported on the day of a "royal birth"?
was it reported on the day of the royal birth so it won't get as much attention than it should?
Lets not forget Cliff was good mates with Jill Dando who was murdered after looking into the child abuse scandal at the BBC and Elm Guest House.
Jill's Fiance is a very high up well respected doctor who was questioned over her death as well as Cliff.
So why were they both questioned? Does Scotland Yard know something we don't?
Weirdly enough Jills fiance Alan Farthing was the Doctor who was at Kate and Wills first birth. After Jill's death Dr.Farthing was promoted to the very top Royal Doctor role but why?
but lets get back to joining the dots paedo Cliff (Jills best mate) travels back to the UK on the day the second Royal baby is born to be questioned over child abuse at the Elm Guest House and others (Jill found all this out before she was murdered in 1997). Is it just a coincidence? he is coming back to the UK to be questioned over the child abuse scandal (that Jill uncovered and was murdered for), on the day of the second Royal birth when Jills Fiance (Alan Farthing fiance at the time of her death in 1997) was the Doctor at the first Royal birth only because he was promoted after Jill's death or he wouldn't have been there. so why today? it seems very ritualist.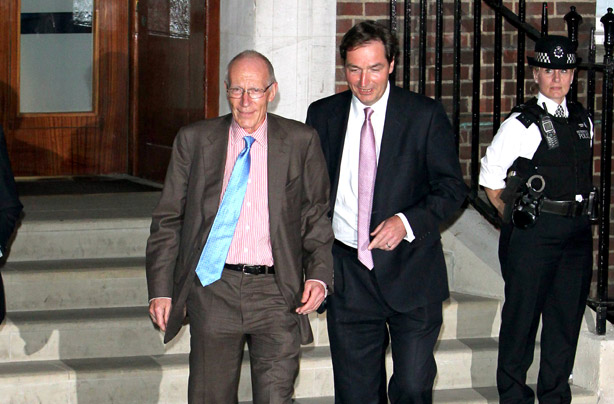 Coincidences do not exist unless they happen at exactly the same time so this is not a coincidence this just seems like its been planned, why? I don't know but lets face it the Royals work in weird satanic ways I'll never fully understand that family but one thing I do know is Jill was murdered for reporting Cliff and his Paedos ways but would Mi5 kill her just for knowing about Cliff or did she know about people higher than Cliff like the ROYALS.
Express your opinion on this story below:
BDTN would like you to know that we do not force you to believe any of our news and you shouldn't believe any news source fully always do your own research, Research on this news story from Google here:
Subscribe to BDTN Email Updates:
Tweets by @BDTN1