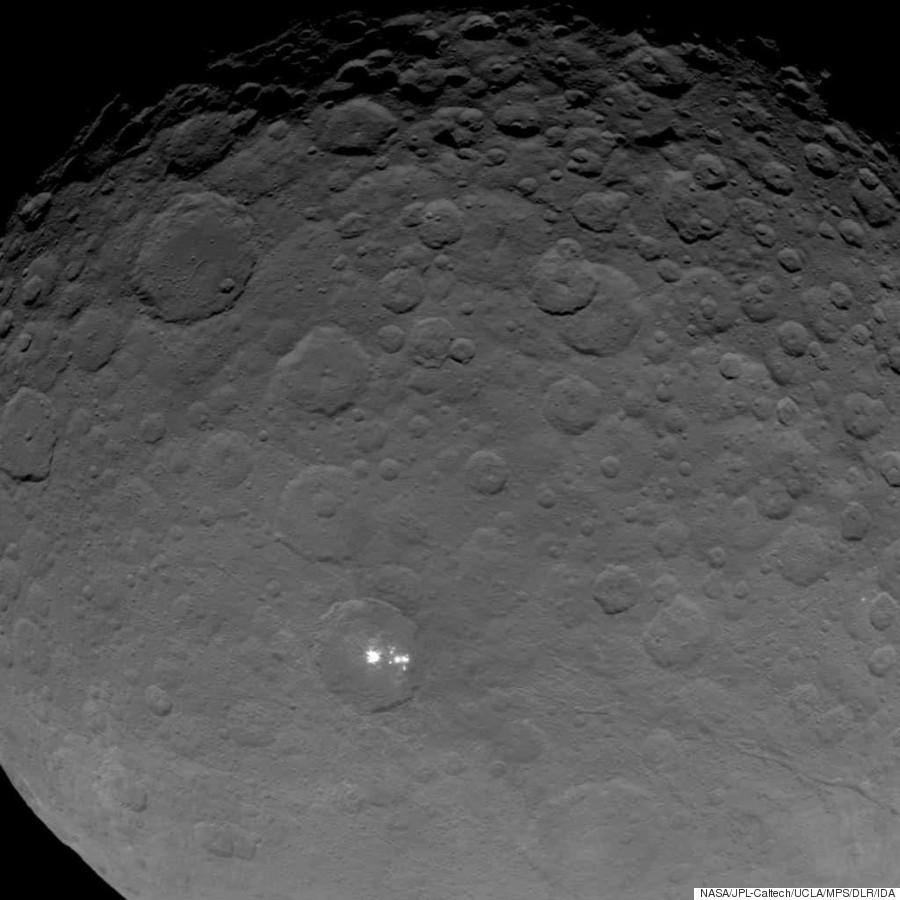 NASA's Dawn spacecraft captured the image on May 16, as it was orbiting 4,500 miles above the planet's surface. It had entered orbit on March 6. The space agency says the crater that harbors the bright spots is about 57 miles wide.
Current theories to explain the spots include ice -- potentially exposed by the impact of another celestial object, or perhaps spewed out by some sort of icy volcano or geyser -- or salt deposits.
"We have these bright spots that have the reflectivity of ice, and whose spectrum of reflected light is similar to that expected from ice. So ice is a good bet," said UCLA astronomer Christopher Russell, principal investigator for the Dawn Mission, in an email to NBC News.
"How is the ice getting to the surface, if it is ice?" Russell continued. "Is it coming out as a water/ice volcano and making a mountain of ice on the surface, or is there a hole there which has dug down to ice or water? And what is causing all the little bright spots near the big bright spot? We are sure there is some logical explanation for all this, but for now, we are just scratching our heads."
Source
Express your opinion on this story below: (Google+ comments box is further down the page)
BDTN would like you to know that we do not force you to believe any of our news and you shouldn't believe any news source fully always do your own research, Research on this news story from Google here:
Subscribe to BDTN Email Updates:
Tweets by @BDTN1