Eerie footage has emerged showing a mysterious 100 metre-wide black ring of smoke floating over clear skies in Kazakhstan - convincing locals it was caused by a UFO.
The clip was filmed on Saturday in Shortandy village, 40 miles north of the capital Astana, and captures the cloud hovering in the sky for 15 minutes before suddenly vanishing without trace.
The video has been viewed more than 50,000 times since being uploaded to YouTube, prompting all manner of bizarre explanations for the phenomenon - with many seemingly convinced it is definitive proof of extra-terrestrial life.


Read more: http://www.dailymail.co.uk/news/article-3027519/Holy-smoke-Mysterious-100m-wide-black-ring-filmed-floating-clear-skies-Kazakhstan.html#ixzz3WXp7KvAT
Follow us: @MailOnline on Twitter | DailyMail on Facebook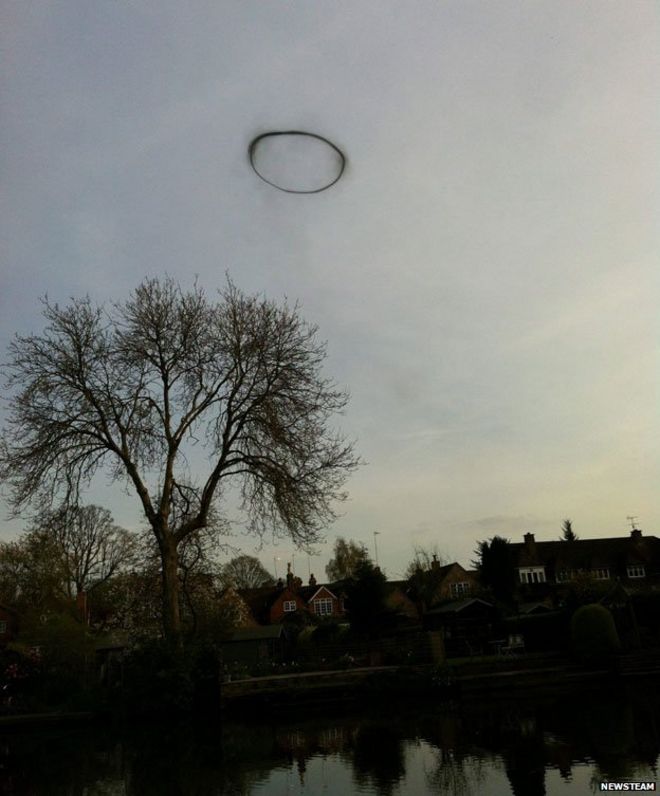 T
he same ring was also reportedly captured by a 16-year-old schoolgirl with her smartphone in
Leamington
-Spa after she played tennis with her mother. The ring - which appeared to be close to Warwick Castle -
remained in the sky for around three minutes
before vanishing, it has been reported.
Several different theories were put forward as to what the ring could be. Some people speculated whether it would be possible to fake the video. In theory you can fake most things, says Iain McArthur, an expert at Audio Video Forensics. For instance, the footage wobbles. You can fake this handheld look. But other elements seem to ring true, he says. There's a "blob" on the top right and top left of the ring, suggesting movement - "something organic", he says. It's not clear how far away the ring is from the smartphone. The video footage is blurred at the sides. But he doesn't think it is suspicious. "Initially it doesn't look like it's faked." It's not like other video of unexplained sightings - in particular the hazy edges to the black circle. "The blurring element is different from any UFO footage I've seen," McArthur says.
Other people thought it might have been a strange weather phenomenon. But that's not so, according to the Met Office. "There's no meteorological reason why it's happened. And there was nothing unusual happening in Leamington Spa that day, we've checked," a Met Office spokeswoman says. The shape is said to have remained in the sky for three minutes. And it's very rare that a cloud circle "that perfect" would remain without being blown away at that height.
Please express your opinions below:
Research similar stories on Google from here:
Subscribe to BDTN Email Updates:
Tweets by @BDTN1