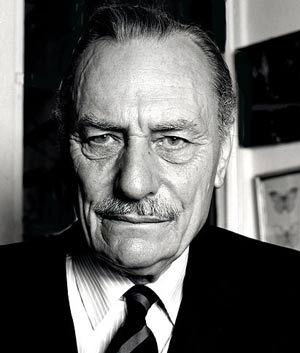 The probe into an alleged paedophile network at the heart of the British Establishment took an explosive turn last night with the revelation that Enoch Powell's name has been passed to police.
The Mail on Sunday can reveal that the late Tory MP, one of the most prominent and divisive politicians of the 20th Century, has been named to Scotland Yard by the Bishop of Durham. The claims relate to 'ritual satanic abuse'.
And in a further development to the sex-ring investigations, police are to be given access to secret files held on MPs in the House of Commons archives as they hunt for evidence on suspected abusers, including former Liberal MP Cyril Smith.
The Bishop of Durham, Paul Butler, contacted police after Powell's name was passed to him by a former Bishop of Monmouth, Dominic Walker, who first heard the allegation when he was a vicar counselling young adults in the 1980s.
The claim is being examined by Operation Fenbridge, one of a number of police probes into 'Establishment paedophile rings' – including an investigation by the Independent Police Complaints Commission into claims that officers dropped their inquiries under pressure from powerful individuals.
A Church of England spokesman said: 'The name of Enoch Powell was passed to Operation Fenbridge by one of our safeguarding team on the instruction of Bishop Paul Butler.'


Read more: http://www.dailymail.co.uk/news/article-3016399/Enoch-Powell-named-bishop-sex-abuse-probe-Scotland-Yard-investigate-satanic-abuse-claim-demands-filed-held-serving-MPs.html#ixzz3VsHUFfZh
Follow us: @MailOnline on Twitter | DailyMail on Facebook
Research similar stories on Google from here:
Subscribe to BDTN Email Updates:
"If I've left out any information out on this news story or made any mistakes please let us know what other Information you can provide and Please comment below"
Tweets by @BDTN1