Who is Rachel Corrie?
Rachel Aliene Corrie (April 10, 1979 – March 16, 2003) was an American peace activist and diarist. She was killed by an Israel Defense Forces (IDF) armored bulldozer in a combat zone in Rafah, in the southern part of the Gaza Strip, under contested circumstances during the height of the second Palestinian intifada.
She had come to Gaza as part of her senior-year college assignment to connect her home town with Rafah in a sister cities project. While there, she had engaged with other International Solidarity Movement (ISM) activists in efforts to prevent the Israeli army's demolition of Palestinian houses.
Less than two months after her arrival,
on March 16, 2003, Corrie was killed during an Israeli military operation after a three-hour confrontation between Israeli soldiers operating two bulldozers and eight ISM activists.
The exact nature of her death and the culpability of the bulldozer operator are disputed, with fellow ISM protesters saying that the Israeli soldier operating the bulldozer deliberately ran over Corrie, and Israeli eyewitnesses saying that it was an accident since the bulldozer operator could not see her.
In 2005 Corrie's parents filed a civil lawsuit against the state of Israel. The lawsuit charged Israel with not conducting a full and credible investigation into the case and with responsibility for her death, contending that she had either been intentionally killed or that the soldiers had acted with reckless neglect. They sued for a symbolic one US dollar in damages.
In August 2012, an Israeli court rejected their suit and upheld the results of the 2003 military investigation, ruling that the Israeli government was not responsible for Corrie's death. The ruling was met with some criticism.
An appeal against the August 2012 ruling was heard on May 21, 2014. On February 14, 2015, Israel's supreme court rejected the appeal.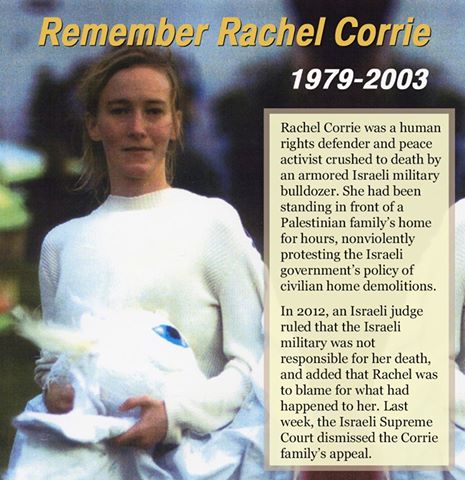 Her case so far:
Two Palestinians were arrested by Israeli troops on Sunday during clashes at an event in a West Bank village to mark the 12th anniversary of the death of US activist Rachel Corrie.
One of those arrested had lost consciousness during an olive tree-planting protest on Sunday in Qariyut, near Nablus.
The activity marked 12 years since the death of Rachel Corrie, a US citizen activist who was crushed to death by an Israeli military bulldozer on 16 March 2003 in Rafah, Gaza Strip, as she tried to block the demolition of a Palestinian home.
The activists chose the village of Qariyut to plant olive trees to support their protest against the blocking of the main road connecting the village to Road 60, which leads to two main cities in the West Bank, Nablus and Ramallah.
The participants planted about 40 olive trees in the threatened lands of Qariyut, which is surrounded by many Israeli settlements and outposts.
Photographs of Corrie were hung on the newly planted trees, alongside pictures of other international activists killed or injured while involved in solidarity action in Palestine. These included Vittorio Arrigoni, an Italian activist who was kidnapped and killed in the Gaza Strip in April 2011; British activist Thomas Hurndall, shot and killed by an Israeli sniper in January 2004; and Tristan Anderson, a US citizen who was critically injured in March 2009 after being shot in the head with a high-velocity tear gas grenade by Israeli Border Police following a protest against the separation wall in the West Bank village of Ni'ilin.
Several Israeli military jeeps came to the area and clashed with Palestinian youths during the tree-planting event. Palestinians threw stones at the soldiers while soldiers fired tear gas.
A group of Israeli soldiers managed to surround the Palestinians after they came through the village, firing live bullets in the air in order to repress the activity. They attempted to arrest many Palestinians but some women from the village were able to prevent some of the arrests. The Israeli soldiers arrested one Palestinian who fell unconscious while running away.
Villagers and activists tried to convince soldiers to release him and demanded a Palestinian ambulance, but the soldiers refused. They also prevented Palestinian medics from treating him on the spot.
"I know, you are trying to mislead us. You will be arrested," the Israeli soldiers shouted toward the unconscious Palestinian, who they then removed on a stretcher, dropping him twice before taking him away in a military jeep. Another Palestinian was arrested during the event.
The closing of the main road a year ago has forced the villagers to take a much longer route back to the village, adding 20 kilometres to the journey. The road has been closed many times in recent years, according to residents.
The residents of Qariyut organise regular protests and demonstrations to oppose the isolation of the village.
In February 2015, the Supreme Court of Israel dismissed the appeal by the family of Rachel Corrie. At the time the family declared in a press release: "Our family is disappointed but not surprised. We had hoped for a different outcome, though we have come to see through this experience how deeply all of Israel's institutions are implicated in the impunity enjoyed by the Israeli military."
- See more at: http://www.middleeasteye.net/news/activists-commemorating-death-rachel-corrie-attacked-west-bank-2144484839#sthash.RssHheLp.dpuf
Revival of "My Name Is Rachel Corrie" Stirs Controversy Yet Again
More than ten years after her death at the hands of the Israeli Defense Forces, Rachel Corrie, a young American from Washington, continues to be a political football in large part because of a play, "My Name Is Rachel Corrie," which was pieced together from journals and e-mails she left behind. It was recently announced that the 2005 play, developed by the actor Alan Rickman and the journalist Katherine Viner, would be revived this spring at the Culture Project in downtown Manhattan. The announcement came just days after Israel's Supreme Court rejected a lawsuit filed by Corrie's parents holding the IDF responsible for their daughter's death.
In 2003, the 23-year-old American traveled to Gaza as part of an international peace group that acted as a human shield against Israeli forces, which were then bulldozing Palestinian homes they considered to be conduits through which weapons were being smuggled. Shortly after Corrie arrived in Rafah during the second Palestinian intifada, she was run down and killed by an armored bulldozer. The highly contested incident made international headlines. Corrie was either hailed as a selfless and idealistic martyr or described as a naïve young woman who brought on her own death by thrusting herself into a tense situation.
- See more at: http://uk.blouinartinfo.com/news/story/1103799/revival-of-my-name-is-rachel-corrie-stirs-controversy-yet#sthash.WB2lkCuJ.dpuf
Research similar stories on Google from here:
Subscribe to BDTN Email Updates:
Site Disclaimer
"If I've left out any information out on this news story or made any mistakes please let us know what other Information you can provide and Please comment below"