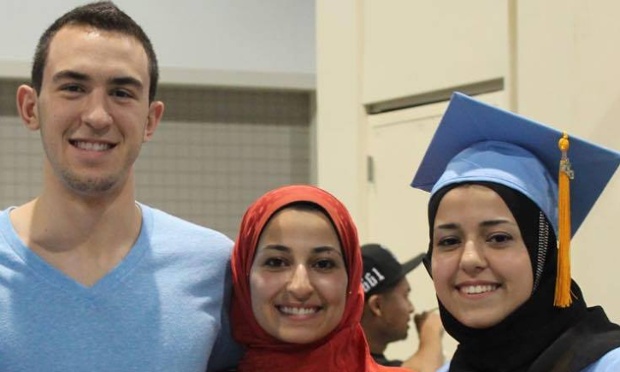 A man who posted anti-religious sentiments online has been arrested after three Muslim students were shot dead near to the University of North Carolina campus on Tuesday.
Police say Craig Stephen Hicks, 46, shot the three students in their heads over an ongoing parking dispute at their quiet condominium complex in Meadowmont, Chapel Hill around 5pm.
Dentistry student Deah Shaddy Barakat, 23, of Chapel Hill, his new wife Yusor Mohammad, 21, of Chapel Hill and her sister Razan Mohammad Abu-Salha, 19, of Raleigh, all died.
Hicks, who is married, turned himself in 'without incident' and is currently being held in Durham County jail on three counts of first-degree murder. He is due in court this morning.
Police say that he is cooperating, and that their preliminary investigation showed that the parking dispute was the motive.
There have also been questions over whether Hicks' anti-religious stance - which he freely shared on social media - had also been a factor in the murders.
On a Facebook page in his name, Hicks shared a number of anti-religion posts, describing himself as a supporter of 'Atheists for Equality'. A banner about 'anti-theism' is prominent on his page.
Hicks posted a photo from United Atheists of America on February 8, which has the title 'why radical Christians and radical Muslims are so opposed to each others' influence when they agree about so many ideological issues'.
On the page he is listed as married and having studied to become a paralegal at Durham Technical Community College. Records show his wife works at UNC Hospital.
Most of the pictures he has posted in recent months criticize a number of religions, including Christianity.
Other recent pictures he has published include one of a loaded revolver.
In one post allegedly written by Hicks and shared by CNN, he wrote: 'When it comes to insults, your religion started this, not me. If your religion kept its big mouth shut, so would I.'
Police were called to Summerwalk Circle after shots were heard at about 5.10pm on Tuesday.
When they arrived they found three people dead. They had been shot in the head, CNN reported.
According to their Facebook pages, Mr Barakat had married his wife just over a month ago and was a second year student at the dental school at the University of North Carolina.
The last picture on his Facebook page, posted on January 29, said he helped provide free dental supplies to 75 homeless people in downtown Durham.


Read more: http://www.dailymail.co.uk/news/article-2948803/Man-arrested-3-shot-death-North-Carolina.html#ixzz3RSHLAFxh
Follow us: @MailOnline on Twitter | DailyMail on Facebook
To research similar stories, search from Google here,
Google Search
Subscribe to BDTN BREAKING down the NEWS by Email
Site Disclaimer
"If I've left out any information out on this news story or made any mistakes please let us know what other Information you can provide and Please comment below"